Lightning capital of the world: Venezuela's Lake Maracaibo earns electrifying title (PHOTOS, VIDEO)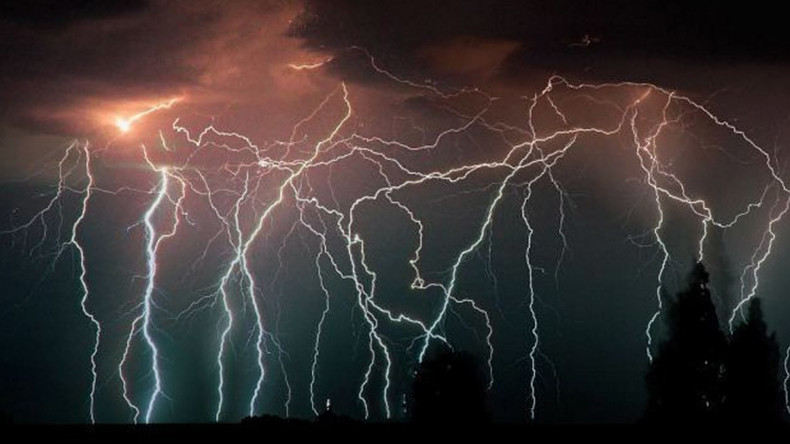 Venezuela's struggling economy has cast dark clouds over the South American country, but blinding bright spots in the form of 100,000 bolts from the sky each year has earned Lake Maracaibo the title of "lightning capital of the world."
While the socialist democracy is usually wary of designations from the US government, they are embracing this one from NASA.
"You can read a newspaper in the middle of the night because it's so bright," one resident told the New York Times.
Up to 200 flashes per minute are not uncommon during one of their 297 nights of lightning per year.
Lake Maracaibo is both a beautiful and terrifying sight to behold.
Situated in the state of Zulia, several of the area's 20,000 fishermen have been struck and killed with up to three people dying each year.
The 13,000 sq km lake gets its new title from a study published in the Bulletin of the American Meteorological Society titled, "Where are the lightning hotspots on Earth?"
NASA, in collaboration with the Universities of Alabama and São Paulo, analyzed readings from a Lightning Imaging Sensor attached to a weather satellite.
"Lake Maracaibo has a unique geography and climatology that is ideal for the development of thunderstorms," Dennis Buechler, a researcher involved in the project from the University of Alabama told NASA.
Storms form when mountain breezes converge with the year-round warm air over the lake, creating some of the most reliable and incredible lightning in the world.
Maybe someone should tell Doc Brown and Marty McFly.
Cloud columns during a storm have been estimated to reach 8-10km in height, producing perfect conditions for a spectacular lightning show.
Tourists drawn to the area can stay with Barbadian expat Alan Highton at Catatumbo Camp, which offers barbeques and accommodation in prime locations for watching the storms.
For those wondering when they should book their trip, 95 percent of nights between April and November feature the light show, according to their site.
The lake itself can be picturesque, but since oil drilling began in 1914, fish species have been on the decline, say locals.
More than 15,000 wells have been drilled into the lake and, with many now abandoned and no maintenance on the old pipes, leaks are common.
Another oil-rich hotspot, the Democratic Republic of Congo, has five locations on the top ten list while Venezuela's next door neighbor, Colombia, has two.
1. Lake Maracaibo, Venezuela
2. Kabare, Democratic Republic of Congo
3. Kampene, Democratic Republic of Congo
4. Cáceres, Colombia
5. Sake, Democratic Republic of Congo
6. Dagar, Pakistan
7. El Tarra, Colombia
8. Nguti, Cameroon
9. Butembo, Democratic Republic of Congo
10. Boende, Democratic Republic of Congo