Clinton presidency could make life 'worse' for Assange, warns Wikileaks exile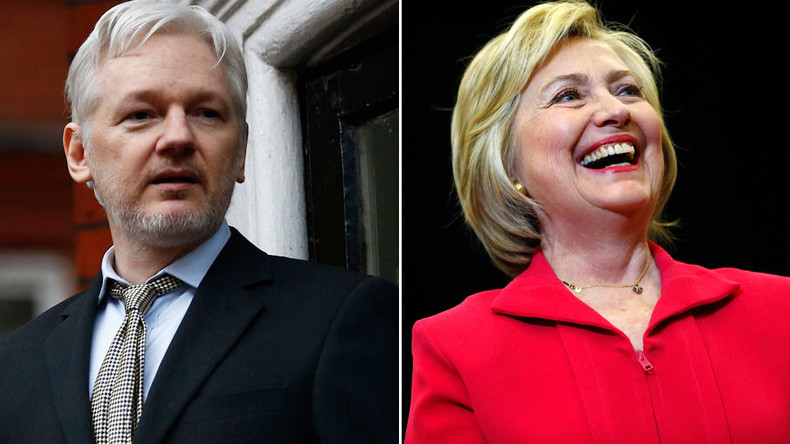 If Hillary Clinton becomes president, life for Wikileaks co-founder Julian Assange "will possibly get worse," security expert and journalist Jacob Appelbaum told a crowd at the premiere of Laura Poitras' documentary "Risk" in Cannes Thursday.
Speaking at a Q&A session after the screening, Appelbaum described a Clinton presidency as "a very scary prospect."
He pointed to Cablegate, the 2010 release of 250,000 State Department emails leaked by Chelsea Manning, as an indicator of what a Clinton presidency would mean for Assange, claiming she still holds a grudge over the whistleblowing that took place while she was Secretary of State.
"I had a meeting with someone from then-Secretary of State Hillary Clinton's office some time after the Cablegate," Appelbaum said. "It was with a very senior person, whose opening line was to remind me that he was a very, very powerful man. He let me know that Clinton did not like Julian or myself on a first name basis. I think that if Hillary Clinton were to run for president, she will continue to assert her political will and bitterness about the exposure of diplomatic cables that documented crimes."
Appelbaum, who has not been to the US for three years on advice of his lawyers, revealed his friends and family members had been harassed by the Barack Obama administration and asked to become informants.
He described Assange as a "political prisoner who is being demonized in the press."
Applebaum claimed the investigation into Assange stretches far beyond his involvement in publishing Manning's leaked documents.
"By 2013, so this is three years ago, the FBI file had already reached over 42,000 pages of which only 9,000 relate to the case against Chelsea Manning," he said.
READ MORE: 'Risk of inaction is very high': WikiLeaks founder Assange under spotlight in new doc at Cannes

Wikileaks editor Sarah Harrison reminded the audience that the UN condemned the UK and Sweden for illegally detaining him and ordered his release in February.
Risk is a Benedict Cumberbatch-free telling of the Julian Assange and Wikileaks story in which incriminating revelations about US foreign policy in Afghanistan, Iraq, Guantanamo, and more recently, TTIP, tipped the global balance of power.
Poitras is a renowned filmmaker who has created detailed, investigative documentaries about the post-9/11 landscape, and the Oscar-winning Citizenfour about Edward Snowden.
She was the first person Snowden reached out to in 2013, due to her filmography.
"You asked why I chose you. I didn't. You chose yourself," Snowden told her.
Poitras has become a victim of surveillance and has been on the 'Terror Watch List' since 2006.
She began working on Risk in 2011, filming Assange after the Swedish sexual assault accusations came to light in 2010.
READ MORE: Clinton rape allegation used by Trump in 'treatment of women' debate
The film follows Assange as he avoids extradition by seeking refuge in the Ecuadorian embassy.