Clinton rape allegation used by Trump in 'treatment of women' debate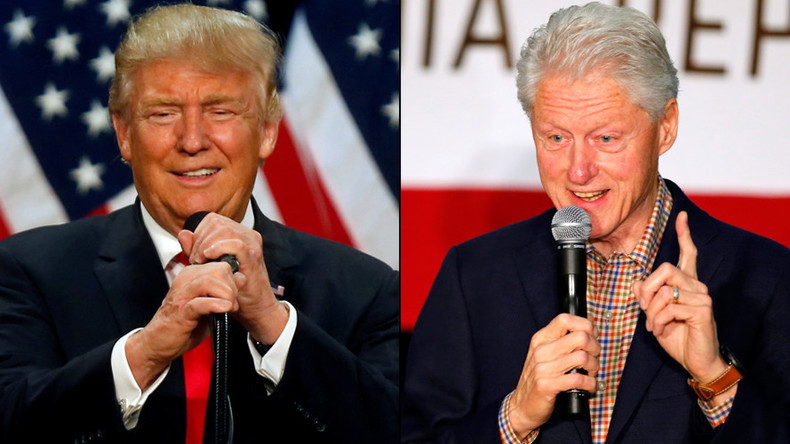 Republican presidential candidate Donald Trump went on the defensive Wednesday night on Sean Hannity's Fox News Channel (FNC) show by bringing up a rape allegation against former President Bill Clinton.
The Republican presidential nominee made the comments when asked about this week's New York Times (NYT) article that brought into question his own treatment of women.
"I told one of the girls you shouldn't have a piece of candy. When you compare that to what Clinton has done...," Trump told Sean Hannity Wednesday in an attempt to minimize the severity of accusations made against him by the "newspaper of record."
Many conservatives believe the publication has a "liberal" bias, despite its supporting role in President George W Bush's invasion of Iraq.
@herbluebody the @nytimes is corrupt, they beat the war drum loud for Iraq invasion. My distrust and disaffection for NYT began then.

— Uluwehi Knecht (@jacobuluwehi) May 17, 2016
Women formerly associated with Trump were interviewed by NYT reporters, making accusations of inappropriate behavior.
Hannity then asked Trump if the New York Times would interview Juanita Broaddrick, Paula Jones, and Kathleen Willey, all women who have made accusations against Bill Clinton, in an attempt to bring balance to their accusations against Trump.
"In one case, it's about exposure. In another case, it's about groping and fondling and touching against a woman's will," Hannity said before Trump added "and rape."
Accusations made against Bill Clinton resurfaced this week after Juanita Broaddrick tweeted that Hillary Clinton is an "enabler" of her husband's alleged crimes.
Broaddrick originally claimed during a 1999 interview on the NBC show Dateline that she was raped by Bill Clinton in 1978 while he was campaigning for Governor in Arkansas.
The NY times should do equal time investigating Hilary's enabling of Bill Clintons sexual assaults on women

— Juanita Broaddrick (@atensnut) May 18, 2016
I was 35 years old when Bill Clinton, Ark. Attorney General raped me and Hillary tried to silence me. I am now 73....it never goes away.

— Juanita Broaddrick (@atensnut) January 6, 2016
A nursing home administrator at the time, she claims Clinton raped her in her hotel room after she volunteered for his campaign.
She also went on to say that Hillary Clinton was aware of her husband's actions.
A lawsuit was filed by Broaddrick against Clinton in 1999, but was dismissed in 2001.
READ MORE: Bill Clinton was frequent flier on pedophile's private jet 'Lolita Express'
Trump accused the media of neglecting cases like Broaddrick's "and big settlements, massive settlements and lots of other things. And impeachment for lying, and losing your law license. You know, he lost his law license, OK? He couldn't practice law. And you don't read about this on Clinton."
Another lawsuit against Bill Clinton by Arkansas state employee Paula Jones was settled for $850,000 out of court in 1998.
Jones accused Clinton of crudely propositioning her in 1994.
Hillary Clinton was questioned last year about her comments that victims of sexual assault deserve to be heard.
During a campaign stop in New Hampshire, she was asked: "You recently came out to say that all rape victims should be believed. But would you say that Juanita Broaddrick, Kathleen Willey, and Paula Jones be believed as well?"
"Well, I would say that everyone should be believed at first until they are disbelieved based on evidence," Clinton responded.
Trump's comments come as he tries to rebuild his reputation with female voters.
He had a friendly interview with FNC's Megyn Kelly on Tuesday, despite his previous sexist comments, including a suggestion she was having her period during a debate.
When Hannity asked Trump if he would consider suing the New York Times, the billionaire responded, "Well they're talking to us right now, so we'll see what happens."
Fox host Bill O'Reilly slammed the New York Times, claiming journalist Megan Twohey wrote the article with bias as she "is a feminist." He added it wouldn't be fair for a "person who despises socialism" to report on Bernie Sanders, "So why then would an editor allow a feminist to report on Donald Trump?"