'Risk of inaction is very high': WikiLeaks founder Assange under spotlight in new doc at Cannes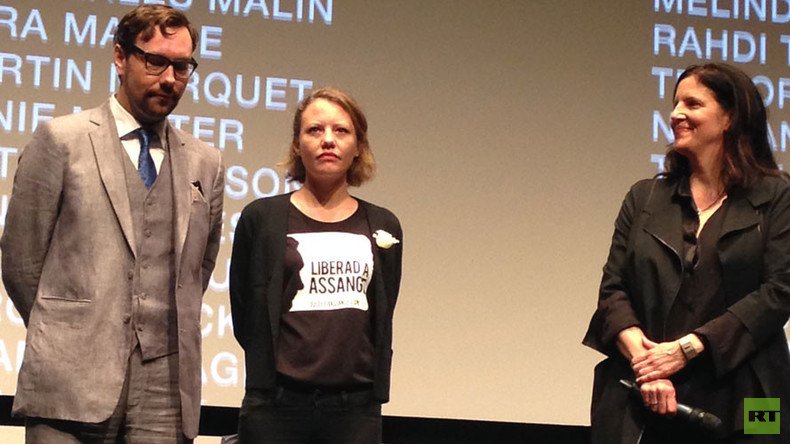 A documentary about WikiLeaks founder Julian Assange has had its world premiere at the Cannes Film Festival. 'Risk' is a sneak peek into the whistleblower's work process, with Assange seen boxing, talking to his mother and being interviewed by Lady Gaga.
The film's director, Laura Poitras, told RT during a Q&A after the screening that she was put on a US government terrorist watch list back in 2006, when she made 'My Country, My Country', a documentary set in Iraq under the US forces' occupation. Citing an FBI audio recording, Poitras said that the Homeland Security Department most probably "still considers me to be an anti-American filmmaker."
The 52-year-old director added that both the investigations into her work and the WikiLeaks case are secret.
"We know that they are ongoing because of the documents that we have received."
Poitras is no stranger to danger. Her previous documentary, 'CitizenFour', was about Edward Snowden, who blew the lid off the US National Security Agency. The filmmaker had even relocated to Berlin to avoid government intrusion while working on the documentary. Back in 2010, Poitras made waves with 'The Oath', which she filmed in Yemen and Guantánamo Bay. That documentary drama revolved around Osama Bin Laden's former bodyguard, and a Gitmo detainee, exposing the real impact of the US War on Terror.
'Mainstream media try to separate people'
In her latest tour de force, 'Risk', presented in a series of 10 chapters, the director managed to get unlimited access to the WikiLeaks indefatigable founder. When Poitras was asked to comment on reports alleging that she and Assange had stopped getting on well for some reason, she questioned the source of the information and lashed out at the mainstream media.
"When I first started doing the reporting on Edward Snowden's documents, one of the first things that the mainstream media did was a comparison [with WikiLeaks whistleblower Chelsea Manning]," she said.
"This comparison is a move by the mainstream media to try and separate people. What Snowden did came after Chelsea Manning. It's not about comparing the two, it's about looking at what they're actually revealing," she said.
"Julian is a political prisoner who has been demonized in the press," WikiLeaks activist and technical expert Jacob Appelbaum said, receiving great applause from the Cannes audience.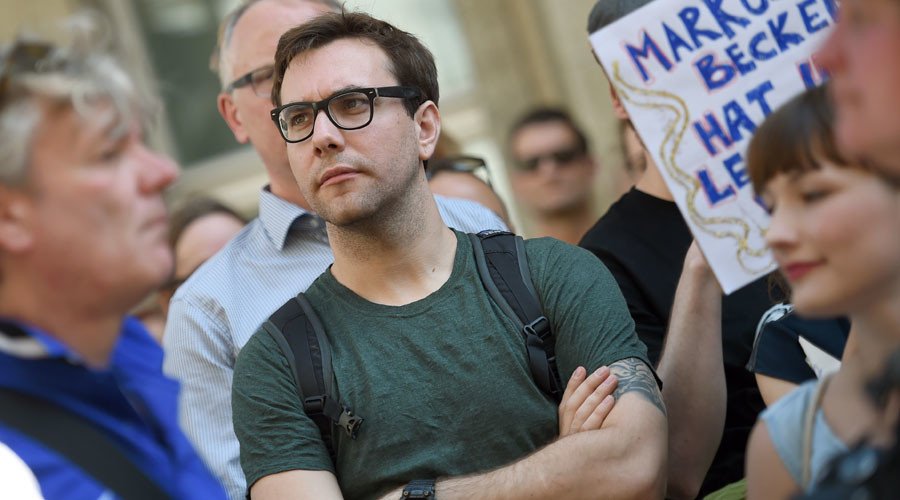 "There's a real split between journalists who are working to reveal information and journalists who are propagandists," he added.
"In the United States most of the journalists are propagandists. They're stenographers for the state."
'If you are not fighting you are losing'
In 'Risk', Assange talks about how much risk people should actually go to, and concludes that "If you're not fighting for the things that you care about, you are losing."
"The risk of inaction is very high," he notes.
One of the liveliest scenes in the film is when Lady Gaga comes to interview Assange in the embassy, filming the conversation on a small camera. The pop diva lazily asks Assange what his favorite food is, and he replies: "Let's not pretend for a moment I'm a normal person." When the two come to calculate that at least 12 government agencies are after the WikiLeaks mastermind, including the CIA and FBI, Gaga aptly summarizes: "A lot of f***ing people."
Assange has been stuck inside the Ecuadorian embassy since he took refuge there in June 2012 to avoid extradition to Sweden. In Sweden, the Australian is wanted for questioning by the authorities regarding allegations of sexual assault against two women in 2010. The 44-year-old has denied the accusations; he says that being taken to Sweden is only meant to pave the way for further extradition to the US, where he will likely be detained for helping the currently-imprisoned Chelsea Manning leak US diplomatic cables in 2010.
WikiLeaks published over 250,000 classified US military and diplomatic documents in 2010 in a move that amounted to the largest information leak in United States history. Hillary Clinton was Secretary of State when WikiLeaks published 'Cablegate'.
'Hillary Clinton did not like Assange'
According to Appelbaum, Assange's life would hardly change for the better under a President Hillary Clinton. He recalled how he once had a meeting with someone from Clinton's office following Cablegate.
"He [the representative] let me know that Clinton did not like Julian or myself."
"I think that if Hillary Clinton runs for president, she will continue to assert her political will and bitterness about the exposure of diplomatic cables that documented crimes,"Appelbaum said after the screening of 'Risk'.

"I don't have any ideas about other candidates but I don't think they have any ideas either," he added, receiving another portion of applause.
2,000 days in exile
WikiLeaks journalist Sarah Harrison, who also attended the film premiere in Cannes, said that May 28 will be Assange's 2,000th day in exile.
"He is detained without charge in an embassy surrounded by police. He has been held in the UK for the last five-and-a-half years. Julian has not seen his son for four years. The UK continues to deny him medical treatment," Harrison, wearing a T-shirt that read 'Liberate Assange', noted.
Last month lawyers for Assange urged Stockholm to repeal his arrest warrant, citing health concerns. They said the WikiLeaks founder cannot receive adequate medical attention at the embassy. Earlier this year the UN ruled that Assange has been "arbitrarily detained" in the embassy in London, and called for the UK and Sweden to end his "deprivation of liberty."
Valeria Paikova, RT, Cannes
You can share this story on social media: