Four tiny tiger cubs found frozen in Vietnam animal smuggling op (GRAPHIC PHOTO)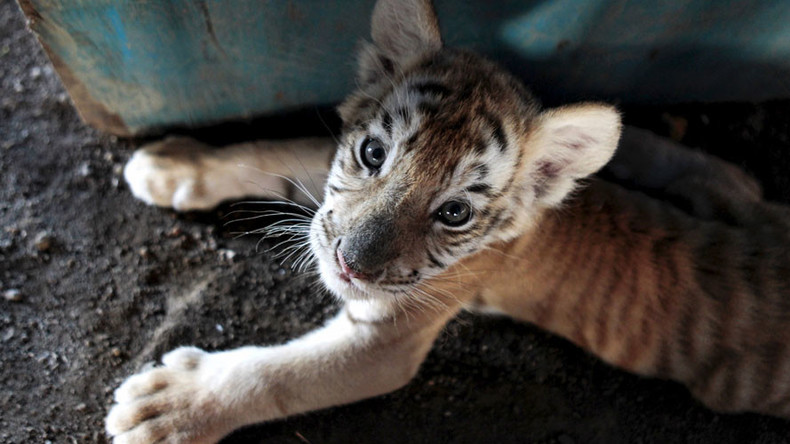 A man was arrested in northern Vietnam on Sunday for trafficking the frozen carcasses of four tiger cubs.
Pham Van Tu, 26, was held at the border of Vietnam and Laos while attempting to deliver the carcasses to a buyer.
READ MORE: Tigers 'starved to death' to make $500 aphrodisiac wine with their bones
The man was tracked down after he brazenly advertised the animals for sale on Facebook, where he found a buyer willing to part with VND$8 million (US$359) for the carcasses, according to Vietnam's VN Express.
The illegal tiger trade is a significant problem in Vietnam, where the animals are sold mainly for their skin, meat, claws and bones. These are made into a glue-like ointment believed to have healing properties.
The man is now being questioned by police and is reportedly suspected of being a member of a wildlife trafficking ring.
Tigers are categorised as an "endangered" species by the International Union for Conservation of Nature and Natural Resources. The world's tiger population has decreased by over 95 percent in the last century, according to the World Wildlife Fund.
READ MORE: Endangered tiger kills a woman at Palm Beach Zoo in Florida
In Vietnam, the tiger population has plummeted from more than 100 in the early part of the century, to as few as five today. Tigers are now being bred in captivity in order to cater for the high demand in illegal animal trading.
News of the frozen tiger cub discovery comes ahead of Vietnam hosting the third International Wildlife Trade Conference in Hanoi this November.