Rocket eye view: Awesome Blue Origin landing captured by onboard camera (VIDEO)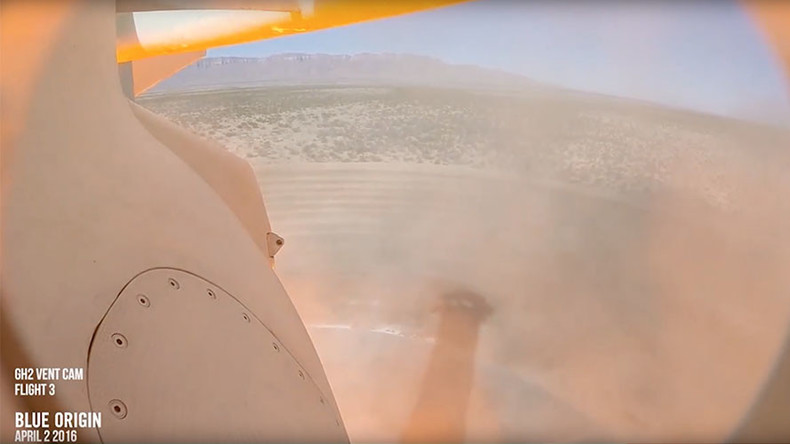 A sensational video recorded from onboard Jeff Bezos' reusable rocket as it made its descent to earth offers an incredible perspective of the Blue Origin landing.
The New Shepard rocket made its third journey into space on April 2, reaching an altitude of 103.4km (339,138ft).
Newly-released footage recorded from onboard the booster shows it re-enter the atmosphere, hurtle towards earth and land safely on solid ground.
The video highlights the speed of the rocket as the perspective shifts dramatically from a sky-high view of the blue-toned Earth to a West Texas close-up in a mere two minutes.
The Blue Origin team used a GH2 vent camera, located just below the booster's ring fin, to record the awe-inspiring clip.
Parachutes on the separate crew capsule component - essential for successful human space flight missions - were also successfully deployed during the flight test.
READ MORE:Looking to get away? Blue Origin plans to launch tourists into space in 2 years
Blue Origin founder Bezos, who is also the founder and CEO of Amazon, is hoping to use his private company to bring tourists into space.