Horrific school bullying video goes viral as one city votes to fine parents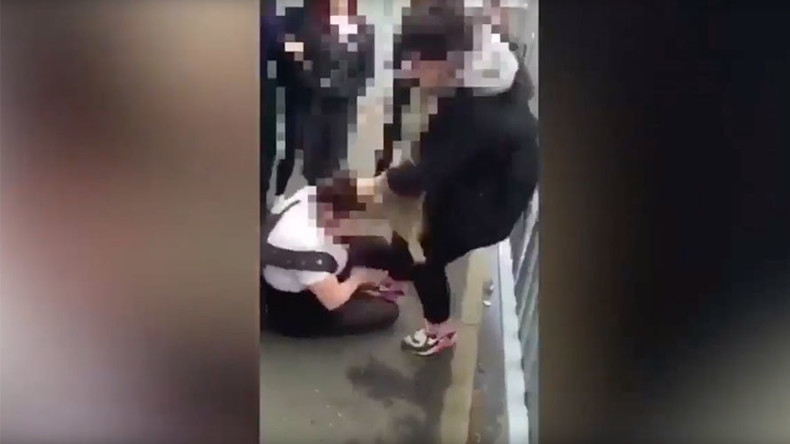 Disturbing video of a schoolgirl in Scotland being beaten by her classmates led to more bullying when it was released online this week, according to the victim's mother.
The video was recorded at the entrance to Gleniffer High School in Paisley on Monday, according to the Paisley Daily Express.
A group of students are seen watching and laughing at the attack, doing nothing to stop it, until one witness yells "break that up."
Trigger warning: The following video and images contain bullying and violence
The victim's mother said her daughter, who she claims did not provoke the attack, was taunted by students after it was shared online.
"It has been shared over Facebook and when she went back to school other pupils had been laughing about it. It's pretty sickening to be honest," she told the Express.
The pupils reaction may seem shocking, but scenes like this are a common sight in the UK, with 43 percent of young people witnessing some form of bullying on a weekly basis, according to The Annual Bullying Survey.
The same number have admitted to being bullied, while 50 percent say they themselves have been the bully.
Alarmingly 29 percent of victims of bullying admitted to self-harming. Only 55 percent of those bullied reported it.
Across the pond, a quarter of children in the US between the ages of 12 and 18 have reported being bullied with 64 percent failing to report it, according to the National Bullying Prevention Center.
Similar to the UK, body shape and race were the primary reasons for being bullied.
Lawmakers in the city of Shawano, Wisconsin have introduced a fine of up to $700 on the parents of a child bully.
The new law will only apply outside schools for cases of harassment. Bullying on school property will continue to be addressed through school policy.
The merits of the new law have been questioned by Dr Steven Meyers, psychology professor at Roosevelt University, who told the Huffington Post that an additional financial cost at home could lead to more stress and conflict for a family already prone to bullying.