Iraqis rip into Prime Minister Abadi's reaction to stained white sofa following protest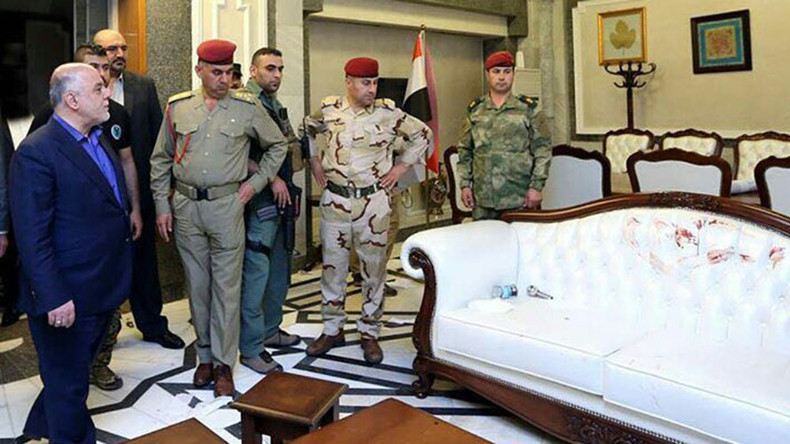 A white sofa could be a sign of Haider al-Abadi's downfall, as Iraqis are pulling no punches in mocking the prime minister on social media for a photo released of him gazing sadly at a stained white couch damaged during recent riots.
Using the hashtag #MyCouchIsMyPride, Iraqis teased Abadi and Speaker of the Parliament Salim al-Jabouri, who both appeared more concerned with the stained sofa than the lives of Baghdad's residents, who are constantly being killed by waves of violence.
Sounds like the old Seinfeld joke about laundry.
It was only a matter of time before Iraqis began posting pictures on Twitter and Facebook of themselves standing over their sofas, looking sad and disappointed.
One Twitter user even asked Obama to send Abadi a replacement sofa from the White House so Iraqis would stop making fun of him.
Abadi and Jabouri issued two separate statements accusing the anti-government protesters that stormed the fortified Green Zone on Saturday of insulting the state.
Supporters loyal to Shia leader Muqtada al-Sadr entered the heavily-guarded government district and clashed with police while breaking down barricades on the same day two suicide bombings carried out by Islamic State (IS, formerly ISIS/ISIL) tore through southern Iraq, killing at least 32 people and injuring 75.
The protesters have become frustrated with the government's deep-rooted corruption and are calling for reforms.
READ MORE: Anti-corruption protesters storm Baghdad's Green Zone, enter parliament
In other words, Poppy Abadi is getting a little sloppy.