Sky Magic: 'Dancing' drones light up Mount Fuji in dazzling musical show (VIDEO)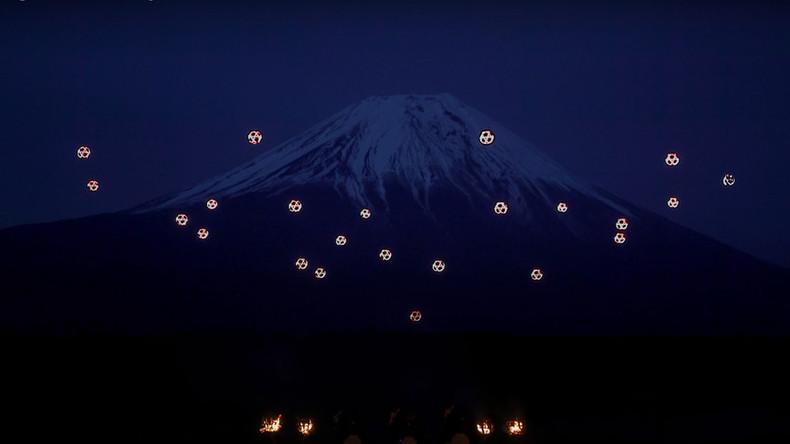 The beauty of Japan's highest peak created an awesome backdrop in a mesmerizing video of 20 LED-ladened drones dancing to traditional guitars.
The lighting disguised the drones, transforming them into delicate lanterns lighting up the night sky.
The spectacular footage was created by Japanese company MicroAd to show off its drone - Sky Magic.
Some 20 drones covered in more than 16,500 LED lights took to the sky in the illuminating display over the world heritage site, accompanied by music from traditional Japanese 'shamisen' guitars.
The wondrous show was perfectly choreographed thanks to the use of the digital control DMX512 which allowed the flying machines, and the visual and audio aspects to be managed simultaneously.
READ MORE: Breathtaking views of world's highest waterfall captured by drone (VIDEO)
"The sky is one of the few remaining frontiers in the new cyber space," MicroAd President Kentaro Watanabe said.
"It is the objective of this project. I would like to reach out to as many people in various places in the 21st century of fireworks."
READ MORE: Drone smashes through 5th floor office window & into man's head (VIDEO)
Creative director Tsuyoshi Takashiro led the tech and tradition fusing project.
"I wanted to bring a new type of magic to the sky using drones," Takashiro explained, Japanese culture blog Spoon and Tamago reports.