Zebra beheaded, fed to tigers in front of kids at Norway zoo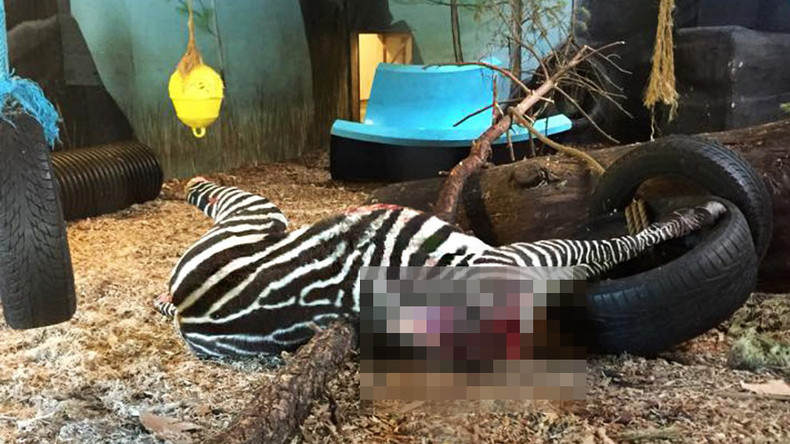 A Norwegian zoo has been criticized for euthanizing a zebra, cutting off its head, and feeding it to tigers in the view of the public, including children.
Some visitors to Kristiansand Zoo and Amusement Park were outraged by the zoo's actions, which claimed it was done due to a surplus zebra population.
A parent visiting the zoo last week took a picture of the beheaded carcass and posted it to Facebook saying, "Took a look at the tigers today. What met me was a little macabre," according to NRK.
Another visitor expressed their disgust saying, "A little too macabre for me. Animals eat animals, but I did not think I would see that at the zoo."
Park veterinarian Rolf-Arne Ølberg defended the park's decision, telling NRK, "There is no point hiding it away. I understand why people react, but it is quite normal that a tiger or lion eats a prey."
Asked why the carcass couldn't have been cut into sections to avoid the gruesome sight, Ølberg said the corpse stimulates the tiger's natural behavior, forcing them to use their claws and teeth to tear it apart.
Technically, this would never actually happen in the wild since there are no tigers in Africa, where zebra roam.
Child psychologist Magne Raundalen disagreed with the park's decision, saying that while animals eating animals is natural, "adults beheading a zebra and adding it to an exhibit in front of unsuspecting children" is not.
The zoo is the latest in Scandinavia to cause outrage, following in the bloody footsteps of Copenhagen Zoo which killed a giraffe in 2014 because its genes were too closely related to others already in a breeding program.
READ MORE: Outrage as giraffe killed, dissected, fed to lions in front of kids at Copenhagen Zoo
Despite several parks offering to take the giraffe, he was shot with a rifle as he leaned down to feed. The carcass was dissected publicly in front of an audience including children before being fed to lions.
Bengt Holst, Director of Research and Conservation at the zoo, defended the zoo's decision in an interview last year saying, "Why protect schoolchildren from real life?"
When asked why schoolchildren could watch the dissection, but not the killing of the giraffe, Holst admitted this "real life" did not apply, saying, "When looked upon, the killing can be pretty cruel."
The following year Odense Zoo in eastern Denmark performed a public dissection of a dead lion, also killed due to an excess number of the big cats in the program, according to the zoo.
READ MORE: Danish zoo dissects lion in front of spectators, incl children (GRAPHIC VIDEO)
Despite some children being disgusted at the dissection, some found it educational, with one 11 year old saying, "It smelled really bad but it was exciting to see what the lion looks like inside. It's cool that it was so similar to a human."
You can share this story on social media: