Outrage as giraffe killed, dissected, fed to lions in front of kids at Copenhagen Zoo
A Danish zoo has publicly killed and dissected a young giraffe "to avoid inbreeding" and "educate" children on its anatomy. The move, which came despite a massive petition and several offers to save the animal, has sparked public anger and death threats.
The 18-month-old giraffe named Marius was shot in the head on Sunday at Copenhagen Zoo, ending the hopes of more than 27,000 animal lovers who had signed a petition urging the zoo's staff to spare his life.

The reason for killing the perfectly healthy young animal? His genes were too common to be "included in the genetic chain without causing inbreeding problems" within the European Association of Zoos and Aquaria (EAZA), according to Bengt Holst, the zoo's scientific director.

EAZA supported the zoo's decision in a statement, saying that it is sometimes necessary for some of the animals to be "humanely euthanized" in order to ensure a healthy, genetically diverse future population.

However, many questioned if the killing of the giraffe and what followed afterwards could be considered "humane." Following the fatal shot, visitors – including children – were invited to watch the animal be dissected and skinned. His internal organs were exhibited for about three hours.
Fed to the lions
The giraffe's remains were then fed to carnivorous animals at the zoo, including lions.

The zoo apparently wanted to kill two birds with one stone, as its staff "would never throw away 200 kilograms of meat," Holst was quoted as saying. A lethal injection – which critics say would have been a more humane form of death – would have spoiled the meat of the animal, he explained.

Moreover, Holst rejected the notion that any of the children were unsettled by the carnage, saying that they instead were "very enthusiastic" and "fascinated" by the process. Some photos from the scene indeed showed several children filming the dissected animal on their smartphones.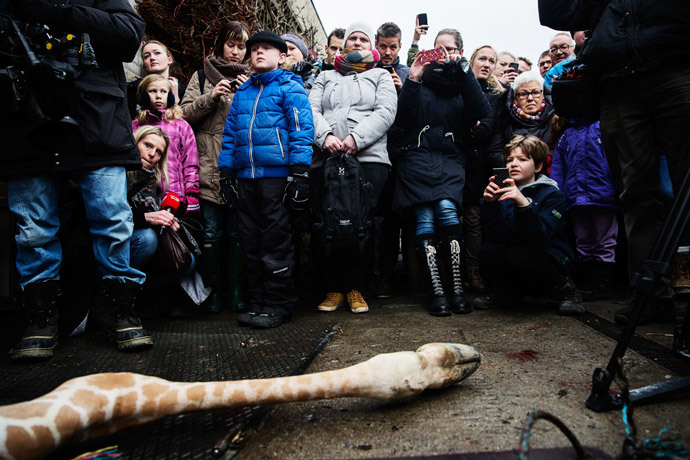 "I'm actually proud because I think we have given children a huge understanding of the anatomy of a giraffe that they wouldn't have had from watching a giraffe in a photo," zoo spokesman Tobias Stenbaek Bro told AP.

The action was, however, branded a cheap "PR stunt" on the part of zoo officials by those protesting the killing of the young animal. Media exploded with outraged comments which were fueled by Holst's remarks that he never considered canceling the killing "because of some emotional events happening around us."
'Unjustified cruelty'
What surprised and angered the public was the fact that Copenhagen Zoo did not consider transferring the animal to other zoos for the same "in-breeding" reasons, and ignored a 50,000 euro (US$68,220) offer from Britain's Yorkshire Wildlife Park, which wanted to rehouse Marius.

Copenhagen Zoo officials insisted that the other options would have been "worse" for the giraffe. Contraceptives, for instance, would have affected its health and would have contributed to "poorer animal welfare," they maintained.

But the 150-year-old Moscow Zoo issued a statement saying that the killing of Marius was "unjustified cruelty." While also being a member of the EAZA, the zoo stressed that it is cruel to have baby animals born and raised only to be euthanized.

"There are more humane ways, but they are more costly. Moscow Zoo strives not to breed animals if there are no means of maintaining them or transferring them to other zoos. While we all love the little ones, sometimes we have to sterilize the animals and keep them separated. Moreover, we do not consider it is possible to kill an animal only because it has become old," the statement said.
The Russian Zoo's reaction aroused western journalists' keen interest, with some jokingly wondering if the Russian Foreign Ministry was planning to follow up with its own statement and maybe even introduce a ban on "adoption of Russian animals by western zoos," especially by "single sex couples."
@RolandOliphant Actually I would not be surprised if @MID_RF issues a follow-up statement!

— Nikolaus von Twickel (@niktwick) February 11, 2014
@mashant@RolandOliphant Surely only for zoos with single sex couples!

— Nikolaus von Twickel (@niktwick) February 11, 2014
The ministry did not officially react, but its spokeswoman Maria Zakharova sarcastically noted that while a killing of a giraffe in front of children was "indeed a decent matter to laugh at" for a self-respecting journalist, the giraffe problems should be handled by Greenpeace rather than foreign services.
"This time Greenpeace is keeping silence. And the leading European media are silent about Greenpeace's silence," Zakharova wrote in her Facebook. "So why does Greenpeace keep silence? Maybe that's because Marius was, in all senses, a poor giraffe."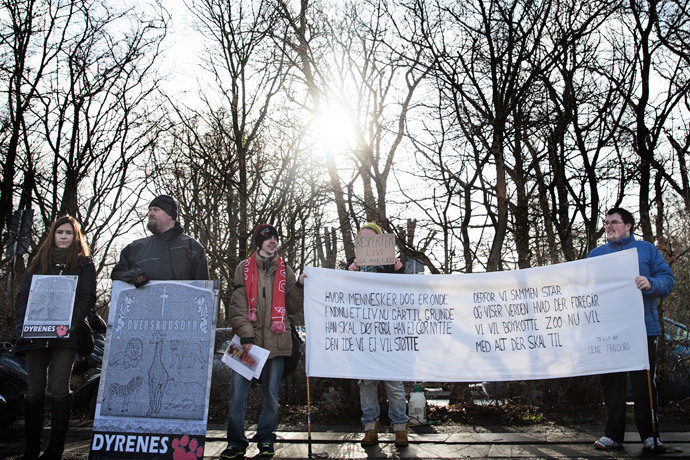 Protests and death threats
Meanwhile, thousands of activists – including a small group which took to the streets to protest the killing of Marius – have lashed out at the zoo's stance and flooded its Facebook page with outraged comments.

But the widespread anger did not end there – Danish zoo officials began receiving calls and messages containing death threats.

Stine Jensen from Denmark's Organization Against the Suffering of Animals said "it shows that a zoo is not the ethical institution that it wants to portray itself as being, because here you have a waste product – that being Marius."

Animal Rights Sweden added that it is "no secret" that animals are routinely euthanized in zoos when there is no longer space or if the newborn's genes are not "interesting enough."

"When the cute animal babies that attract visitors grow up, they are not as interesting anymore," the group said in statement, adding that the only way to end the practice is to stop visiting zoos.
You can share this story on social media: