Oliver Stone's Snowden movie trailer drops (VIDEO)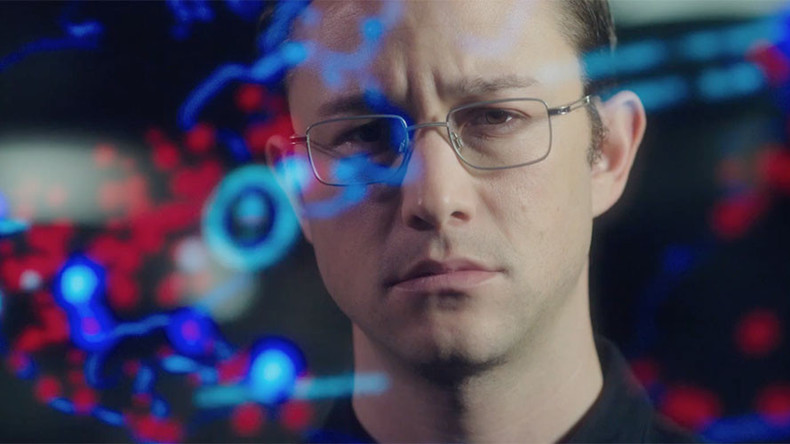 The first trailer for Oliver Stone's biopic of Edward Snowden has been released.
'Snowden' is Oscar-winning Stone's telling of the NSA whistleblower's life, from his childhood to his current situation. It stars Joseph Gordon-Levitt as Snowden and Shailene Woodley as his long term girlfriend Lindsay Mills. The 2:39 minute video has been watched more than 19,000 times since it was uploaded.
The trailer begins with scenes from Snowden's time in Army Reserve training and offers insight into his journey into the National Security Agency (NSA), where he managed to collect files on the bulk spying program that the NSA and its overseas counterparts carried out on ordinary citizens.
"Think of it as a Google search, except instead of searching only what people make public, we're also looking at everything they don't. Emails, chats, SMS, whatever." Snowden is told by an agent.
Snowden is shown to be using a Rubik's cube to smuggle a secure digital (SD) card of illegally downloaded NSA data through a security checkpoint at his job.
@Snowden Oliver Stone just created a market for Rubik's cubes with SD card holders.

— Alex Abdo (@AlexanderAbdo) April 27, 2016
The trailer shows journalists Glenn Greenwald (Zachary Quinto), Laura Poitras (Melissa Leo) and Ewen MacAskill (Tom Wilkinson) meeting the former intelligence contractor in Hong Kong, and finishes with high-tension scenes from when the whistleblower's identity was first revealed.
The film, which was delayed for almost an entire year, will hit theaters on September 16.
Snowden, who remains in Russia, has become a respected voice on government surveillance, freedom of the press and encryption since he became an NSA whistleblower in 2013.
He appeared on a CNN debate in New York on Tuesday night, via video stream, arguing against the motion that the "government should have lawful access to any encrypted message or device."
In favor was CNN's Fareed Zakaria. At the end of the debate, Zakira said he did not support legislation to force companies to comply with all court orders to decrypt communications, The Intercept reports.
Snowden is based on The Snowden Files by Luke Harding and Time of the Octopus by Snowden's lawyer Anatoly Kucherena. Stone ‒ father of Sean Stone, co-host of RT America's 'Watching the Hawks' ‒ wrote the screenplay along with Kieran Fitzgerald.