Leap of faith: Stuntman clears speeding race car in 'blind backflip' (VIDEO)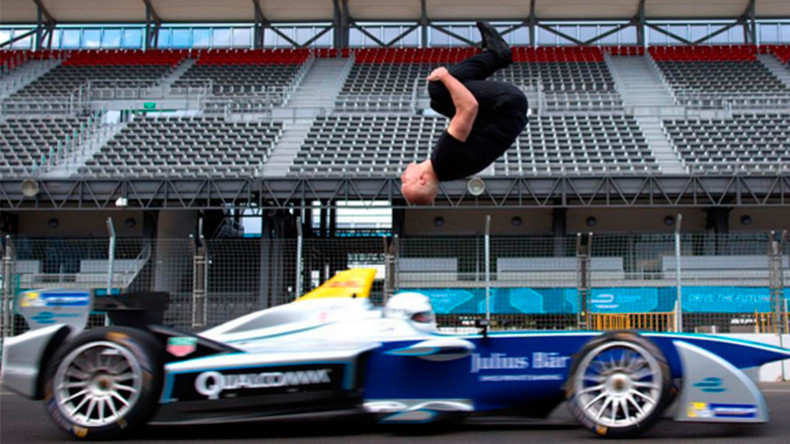 Hollywood stuntman Damien Walters has pulled off an electrifying and daring feat by 'blind' back-flipping over a speeding Formula E car.
The professional stuntman – whose film credits include Kick-Ass and James Bond's Skyfall – took on the challenge to promote a growing racing class, Formula E.
Filmed on the racetrack of Mexico City's Autodromo Hermanos Rodriguez, Walters can be seen with his back to the high-powered single seater before he leaps into the air.
A clumsy miscue would surely have resulted in the Briton colliding with the car, but his perfectly timed flip allows him to narrowly avoid serious harm.
A 360-degree video of the stunt allows viewers to virtually sit on board the speeding racer with driver Alistair Whitton, as he steers a Formula E car toward the waiting Walters.
Although the professional risk-taker makes his living out of putting his body on the line, he has never before been as nervous as when performing this leap of faith.
"I'm thrilled with how it worked out though, and it's a credit Formula E that they gave us the opportunity to do something so dramatic," said Walters.
It took two days for the stunt crew to prepare, analyzing exactly how much height Walters needed to get to clear the 60mph motor.
Formula E is a new kid on the block when it comes to racing; it's battery powered, emission free vehicles representing a pulsating change from its more established petrol-powered cousin.
Saturday saw the sport take to the streets of Paris for the first time, with the ePrix's 1.93km circuit winding around historical monuments like Napoleon Bonaparte's burial place and the Army Museum.
Brazilian driver Lucas di Grassi claimed victory at Saturday's event in front of a sold out crowd.
"To see people all around the track cheering, on the inside of the track and the outside… it's just amazing what was done here today," said the Abt Schaeffler Audi Sport driver.
"I hope we race here many more times and in more cities like Paris. This is what Formula E is about."
Formula E will continue at the Berlin ePrix on May 21.