'Moron' gets face-to-face with tiger at Toronto zoo while fetching her hat
Published time: 18 Apr, 2016 14:36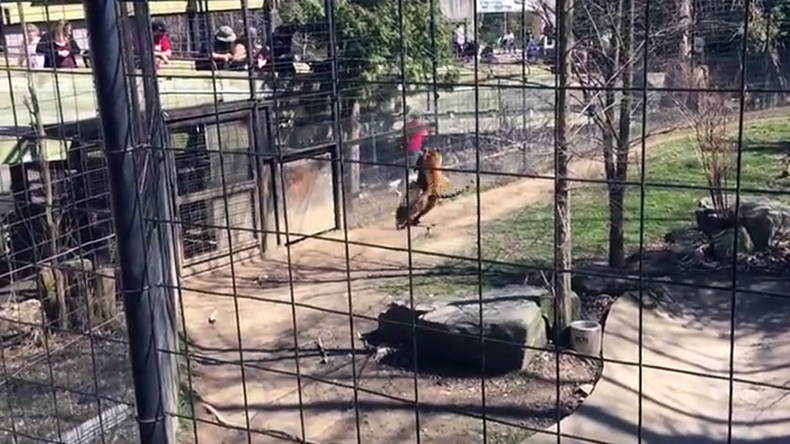 A woman repeatedly described as a "moron" in a new viral video decided to hop over a safety barrier at Toronto Zoo's tiger exhibit to retrieve a hat.
The red-shirted woman is seen jumping down the outer fence in front of children and grabbing her hat while an agitated tiger paces back and forth.
Crazy lady jumped ov the tiger fence td at zoo to get a hat HAHAHAHA

— Brittany Belanger (@brittanybel12) April 16, 2016
In fairness to her, there was still a sizeable inner fence between her and the big cat, so she was never in any real danger.
And yet, it still prompted some mansplaining from one on-looker: "You're a moron and you're a bad example to everyone else's kids."
Jennifer Tracey, spokesperson for Toronto Zoo, told CBC News she learned of the incident after the video was uploaded to YouTube.
"It was very irresponsible of this individual to jump over the boardwalk and she could have easily injured herself by exciting the animal in this way," Tracey said. "The situation could have been much worse."
READ MORE: Toddler beats swift retreat after 'cuddly' tigers turn nasty (VIDEO)
The event occurred a day after zookeeper Stacey Konwiser, who was known as a "tiger whisperer," was mauled to death by a Malaysian tiger during a routine procedure at the West Palm Beach Zoo in Florida.
READ MORE: Endangered tiger kills a woman at Palm Beach Zoo in Florida