I, Robohon: Dancing robot 'companion' smartphone launched in Japan (VIDEO)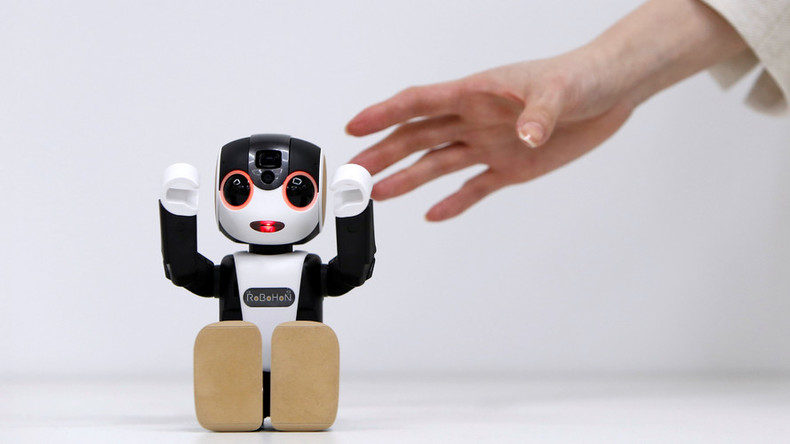 Japanese electronics giant, Sharp, has launched the world's first robotic smartphone in the form of a cute, dancing, humanoid, called Robohon.
The multi-talented, two-legged, companion will be available from May but won't come cheap, with a price tag of around $1,800.
Sharp's innovative smartphone is larger than the standard at just under 8 inches tall and less than a pound in weight.
Robohon uses the Android operating system and provides typical smartphone functions such as phone calls, emails, photos, videos, as well as a range of more interactive features. The company says "RoBoHoN can grow to accommodate more natural communication with the user by learning the user's profile and usage situation".
READ MORE: Phone or friend? The new robot-shaped smartphone that wants to know you and learn (VIDEO)
For example, the friendly, humanoid can speak with its owners, reminding them of tasks they need to do - though it does know how to let its hair down and dance.
The device also comes with an inbuilt laser projector that can display photos, videos and maps onto screens or other flat surfaces and a voice recognition system for controlling the robot.
Robohon was developed with researchers at the University of Tokyo and robot development company RoboGarage.
Sharp, has been on the edge of bankruptcy for many years and reported a nine-month net loss of more than $900m in February as a result of restructuring costs and a fall in demand for smartphone screens
Taiwanese company Foxconn agreed to pay Sharp Corp $3.5 billion for a two-thirds stake last month, after weeks of negotiations, marking the largest acquisition by a foreign company in Japan's tech industry.

Sharp is hopeful that Robohon will help turn the tables and is already looking at increasing its features. The company predicts sales of 5,000 robo-phones per month.
Just be sure to double check your settings...