Real life Hamburglar wanted by DC police for breaking into Five Guys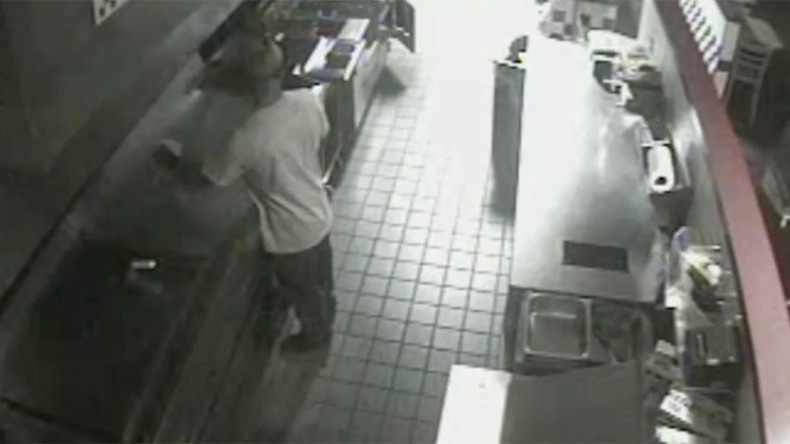 America's fastest-growing burger chain, Five Guys, may have been the victim of corporate espionage and the suspect could be an 'employee' of its biggest competitor, McDonald's.
A fedora-wearing, real-life 'Hamburglar' is wanted by police in Washington DC after breaking into a Five Guys restaurant and frying up some patties.
The crook wasn't craving any cash, just two burgers and a drink.
The man can be seen walking around the restaurant, including the staff room, but appears to have little interest in taking any valuables.
The stylish sneak found his way into the restaurant in Columbia Heights after a late night delivery person exited, according to police.
Security camera footage caught the hungry thief between 3:10 a.m. and 5:05 a.m. on March 18, possibly trying to soak up the alcohol he consumed for St Patrick's Day the night before. Or perhaps he had the munchies after celebrating the green holiday another way.
Whatever his motive, he should be easier to identify as he wasn't wearing the Hamburglar's usual cape and mask.
If the law manages to catch up with him, a job at Five Guys or a similar low-wage, fast-food joint may be in his future, since many ex-offenders struggle to find work in the US. Or perhaps he already does work as a member of the chain's prolific social media team and this is just a stunt.
Wherever he ends up, he proved his ability to multitask, at one point making a phone call while grilling his grub.
Police are investigating the incident as a burglary and DC Crime Stoppers are offering a reward of $1,000 for any information that leads to the man's arrest.
Unfortunately, previous Hamburglars have proved elusive.
This Hamburglar was a busy man last month after stealing 33 cases of whoppers from a Burger King delivery truck in Michigan.