Crazy acrobats race across tightrope over 1,200m canyon (VIDEO)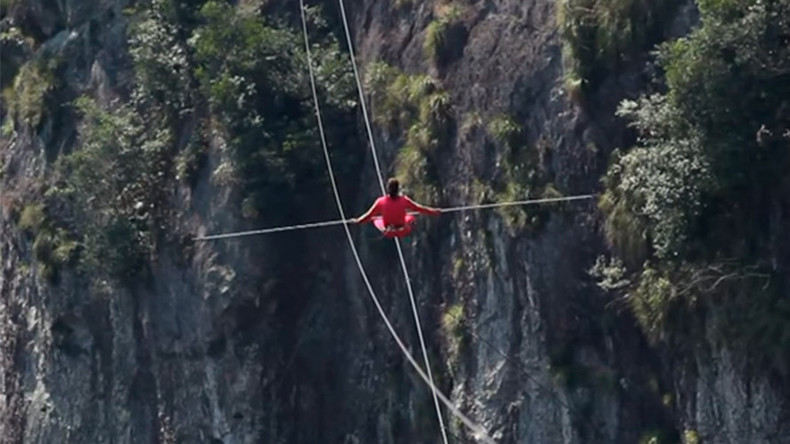 If heights aren't your thing, then you might want to look away now.
Tightrope walking race 1,200 meters over canyon

Three competitors from China, Switzerland and Italy have walked 300 meters on wire at an altitude of 1200 meters, over a canyon. Sportsmen from China & Switzerland held a balancing beam weighing over 10 kilos.

Posted by RT Play on Saturday, April 2, 2016
The 'Running Wireman' competition saw three acrobats compete in a terrifying tightrope race 1,200 meters (about 4000 feet) over a canyon in China's Sichuan province this week.
The three competitors from China, Italy and Switzerland crossed 300 meters along the taut cable holding a balancing beam weighing more than 10 kilograms. The contest was judged by how fast they made their way across the middle 100 meters. The men raced each other in three dizzying rounds.
Freddy Nock from Switzerland won the race, crossing the canyon in 42.04 seconds. Nock broke the Guinness World Record for the highest tightrope walk in 2015, when he made his way across two Swiss mountains.
Watch awesome drone footage at a similar tightrope race in China in October:
And then of course there's the master of all tightrope walking, Philippe Petit, who crossed between the World Trade Center Twin Towers in 1974, as featured in the documentary "Man on Wire" and last year's 3D blockbuster "The Walk".