Excavator dude rescues baby deer drowning in mud (VIDEO)
Published time: 1 Apr, 2016 01:23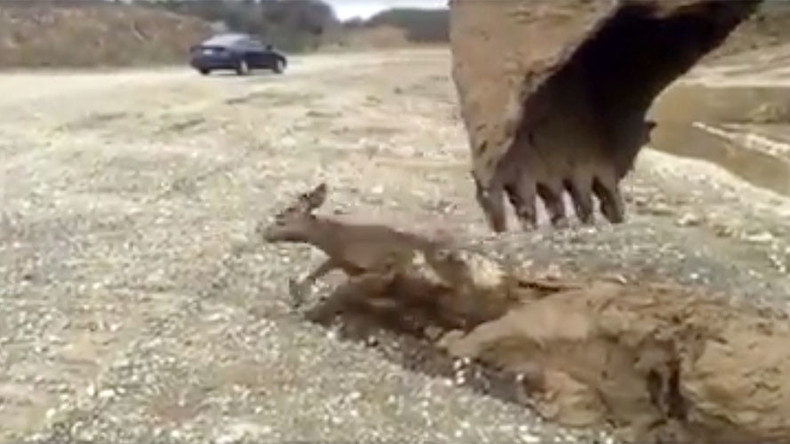 A baby deer sinking in mud would have died had it not been for an unexpected helping hand, or rather an excavator bucket, to scoop it out to safety. The rescue operation was caught on camera and the footage is now melting hearts on YouTube.
The video was originally shared by Bill Davis of Washington state, who wrote on his Facebook page: "Found a couple yearling black tail deer stuck in some mud! Couldn't watch them struggle!"
Davis also wrote that he was "checking on some alarm events" at a property that belongs to a company he works for, when he found them.
At first, the deer, which is camouflaged in the mud, is barely noticeable.
"I wouldn't have seen them if they hadn't moved and caught my eye! I'm an avid deer hunter and it broke my heart to see this!" he wrote.
Davis and another man, presumably his co-worker, rushed to the rescue and started working the machinery.
As if realizing that help had arrived, the animal seized a chance to survive and started moving towards the excavator bucket, but kept sinking in mud.
The skilled operator then carefully scooped up the deer, which they believed was a "she", and lifted it to safety.
Once on dry land, clearly exhausted and scared, it did not rush away immediately. She took a minute to get her bearings and walked towards the forest, where she most like came from.
"I'm out there looking to make sure the babies didn't come back to the mud! No sign of them," he then said in comments. "Didn't sleep much last night, all I could think about was those little guys getting stuck again, and not finding mama!" he also added.