Runaway zebra drowns in golf course lake after being tranquilized (VIDEO)
Published time: 23 Mar, 2016 16:18
Edited time: 23 Mar, 2016 18:52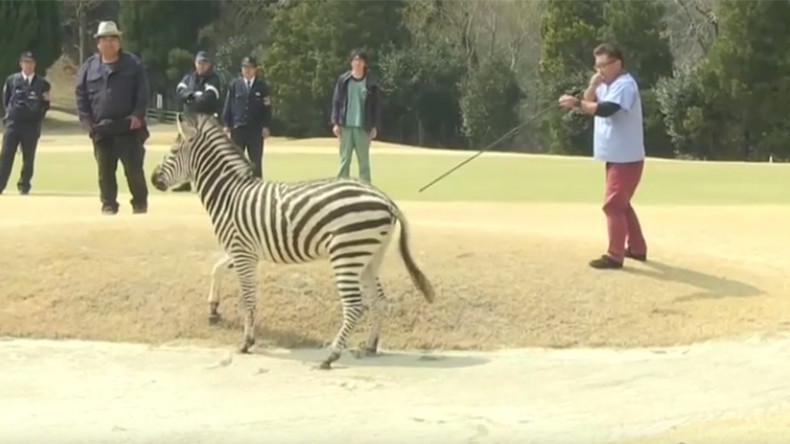 A young zebra met his untimely death in Japan after he was hit with a tranquilizer dart and plunged into a golf course lake while being chased by a dozen men, including police officers.
The two year old was loose on a golf course in Toki, in the Gifu prefecture in central Japan, Wednesday morning after making his bid for freedom from a nearby horseback riding club the previous night.
Police officers and veterinarians were among those trying to capture the striped creature, but to no avail.
The zebra was running around the golf course for a number of hours before a vet shot it with a tranquilizer dart, according to AP.
The animal then ran into the lake and, although he was rescued within minutes, his heart had stopped beating. Attempts to resuscitate him were unsuccessful.
A vet on the scene said the zebra likely drowned; "We pulled it out, but its heart had stopped," he said.
The golf course scene played out quite differently to the 'zebra escape' procedures practised at a zoo in the Japanese capital last month.
Footage from the drill show a zoo staff member dressed as a zebra while being surrounded by a net before apparently succumbing to a tranquilizer: