Endless winter: Insane arctic surfers tame Norway's icy waves (VIDEO)
Published time: 18 Mar, 2016 18:33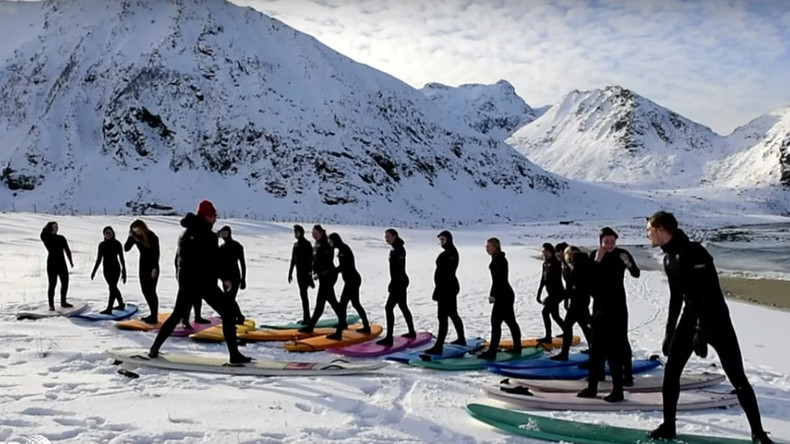 Sun, sand, and sea may be what comes to mind for most when thinking of surfing, but below-freezing temperatures and snow can't deter thousands of adventurous surfers from riding the waves of the Norwegian Arctic.
The annual trek to northern Norway each winter makes for some bitchin' surf videos with stunning winter scenery in the background.
It's a massive payoff for the brave souls who get in the water along with the uncrowded waves.
Just try not to think about how cold the water is.
Surfing in the snow has taken off in recent years as surfers venture to find spots which are less crowded.
Hawaii might sound appealing, thanks to the weather, but for hardcore surfers, sharing one small break with just 100-plus surfers can be pretty gnarly.
Ireland and Scotland had originally been the go-to places for surfers seeking more elbow room, but even they have become crowded, so now Norway and Iceland have become icy fortresses of near solitude.
Even when there is no swell, these surfers managed to find a wave at this glacier in Alaska, waiting for ice to be shredded to surf the wave it creates.
With shards of ice in the water and freezing temperatures to face, this would definitely not be a good place to wipeout.
Hopefully locals in Norway and Iceland are enjoying their new surfing visitors, bringing with them Jack Johnson CDs and a semi-religious wave-worshipping dialect. If not, you can point the blame at 007 and some awful CGI.