'Wonderful gift': DiCaprio receives 2nd Oscar, silver figurine from Russia's Yakutia
Published time: 18 Mar, 2016 04:27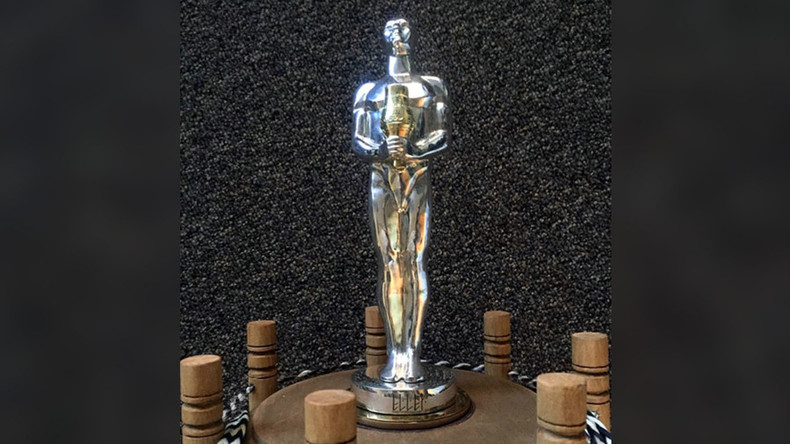 Movie star Leonardo DiCaprio has expressed infinite gratitude to his Russian fans and especially Yakutian women who donated some 1,4kg of jewelry to create a unique silver Oscar statuette for an actor who just recently finally grabbed his first real Academy Award.
Technically, the Yakut statuette could have become the first "Oscar" received by the 41-year-old, as the drive to collect the needed silverware was well underway before DiCaprio won his first Academy Award for the lead role in The Revenant.
While the Yakut award was in the making, DiCaprio snatched the glory for the Best Actor as he portrayed a 19th century American frontiersman, mauled by a bear during a winter expedition and left for dead by his companions.
Yakut fans managed to get their silver trophy over to DiCaprio only on Wednesday. The Russian figurine named "Speaking to Stars" depicts a man holding a Yakut ritual vessel and starring at the sky. The actor took the honor very seriously and thanked his Russian fans, and especially the Yakut women.
"Thank you to the people of Yakutia for this wonderful gift, especially all of the women who gathered and donated the materials that went into creating the statue," DiCaprio wrote in a comment to Instagram photo of the Russian art work.
The Hollywood star known for his environmental advocacy, just like during his award speech in Hollywood used the opportunity to focus attention on ecology.
"Yakutia is home to the coldest inhabited place not only in Russia, but also on Earth – and the region is extremely vulnerable to climate change. Rising temperatures pose a major threat to its people, their way of life and their natural habitat," DiCaprio said.
At the 2016 Oscar ceremony, DiCaprio also used his acceptance speech to express his appreciation for the environment.
"Climate change is real, it is happening right now. It is the most urgent threat facing our entire species, and we need to work collectively together and stop procrastinating," he said in February.
According to Professor Oleg Anisimov from the State Hydrological Institute in St Petersburg by the end of the century climate models predict up to 8 degrees Celsius temperature rise in Yakutia, which could lead to detrimental to the environment and human health.
"That is, warming here is two times faster, than globally. This is because of the so-called Arctic amplification. There is a reduction in snow and ice cover, which reflect much of the coming sunlight. With less snow and ice, the Arctic gets additional warmth," he says according to Siberian Times.
DiCaprio, whose maternal grandmother was born as Yelena Smirnova in Russia, is very much beloved in Russia, not only as an actor but as an environmentalist. Vladimir Putin described the actor as a "muzhik" or a "real man" at Wildlife Conservation Society at Russia's tiger summit in November 2010, for DiCaprio's persistence in reaching the event after encountering two plane delays and donating $1 million to save wildlife.