'Leprechaun' Max Keiser trolls 'gold-stealing' Irish banker (VIDEO)
Published time: 18 Mar, 2016 00:36
Edited time: 18 Mar, 2016 00:57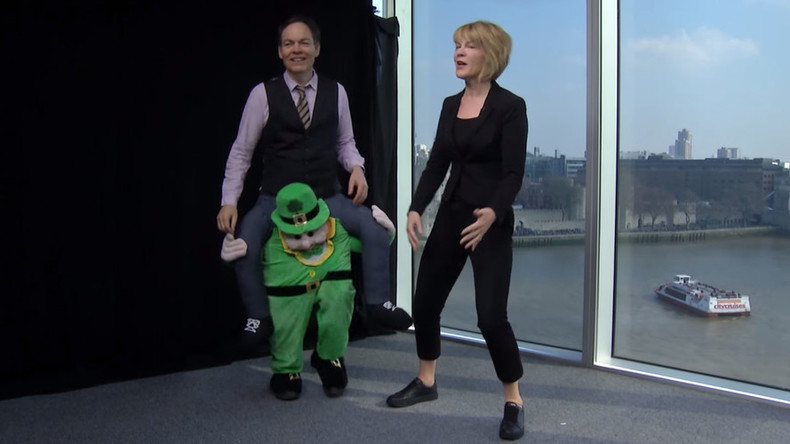 Financial analyst and RT host Max Keiser used his St Patrick's Day message to compare disgraced Irish banker David Drumm to gold-hoarding leprechauns.
"They stole all of my gold and all of the assets. The snakes of Ireland were collateralized in a stake obligation bond and sold by David Drumm, now he's going to go to jail," Keiser said, while wearing a comical leprechaun outfit.
Former Anglo Irish Bank Chief Executive Drumm was extradited back to Ireland from the US on Monday where he was arrested upon arrival at Dublin Airport. He faces more than 30 charges relating to fraud and false accounting.
Keiser couldn't resist trolling Drumm, who has been accused of propping up the toxic bank's share price by providing unlawful financial assistance to 16 wealthy investors prior to the collapse in 2008, leading to a reported €17.5 billion ($19.8bn) of losses in 2010.
"Where's David Drumm in all of this? He stole our pot of gold! He stole everyone's gold!" said Keiser.
Some joked Drumm was taking a break from his legal woes during Thursday's St Patrick's parade in Dublin.
The 49 year-old banker is blamed by many for playing a key role in Ireland's worst banking disaster, which led to the country's debt crisis and bailout from the IMF, European Commission, and ECB.
READ MORE: Busted: Ex-boss of toxic Irish bank faces court after 7 year exile
Incredibly, Anglo had been rated as the world's top performing bank between 2001 and 2005, before it all went belly up.
The subsequent financial collapse made Ireland vulnerable to US and other foreign vulture capitalists, who this week served eviction notices to dozens of families living in a property now owned by Goldman Sachs.
READ MORE: More than 200 families face eviction in Dublin after Goldman Sachs vulture fund deal