Busted: Ex-boss of toxic Irish bank faces court after 7-year exile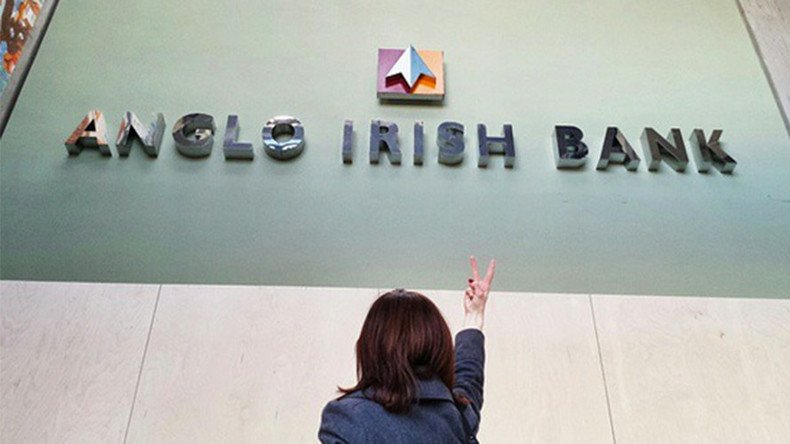 A former top banker linked to the collapse of Anglo Irish Bank has returned to Ireland from the US after a four-month extradition battle, to face more than 30 legal charges.
David Drumm, chief executive of Anglo from 2005 to 2008, is facing charges that he acted as a key figure in Ireland's worst banking disaster. The institution's collapse in late 2008 sparked the Irish government debt crisis and subsequent 'bailout' from the European Commission, ECB and IMF.
The bank posted the worst corporate results in Irish history with losses of €17.5 billion for 2010. Ironically, the now-defunct financial institution was named the world's top performing bank between 2001-05 at a World Economic Forum in Davos.
Drumm, 49, is accused of propping up the toxic bank's ailing share price through false accounting, falsification of documents, and giving a false report to the stock exchange, The Irish Times reports. He has reportedly denied any wrongdoing.
Drumm, who was Anglo's chief executive from 2005 to 2008, is also alleged to have been involved in transactions amounting to €7 billion between Anglo and another Irish lending institution, Irish Life and Permanent. The loans, issued as the economic crisis worsened, bolstered the bank's apparent liquidity levels.
Drumm was arrested in Boston in October 2015 on foot of an Irish extradition request.
The former banker initially fought the warrant to return him to Ireland, with his lawyer stating at a Boston extradition hearing that she needed time to examine whether the Irish application had a "political purpose." Drumm eventually withdrew his objection to extradition.
Anglo Irish Bank was nationalized by the Irish government in 2009 - the same year Drumm left for the US to set up home in Boston. He is currently appealing the US courts' decision to refuse to grant him bankruptcy on debts of more than €10 million.
You can share this story on social media: