'Suicidal deer' road sign kicks up a ruckus in Iowa
Published time: 17 Mar, 2016 04:18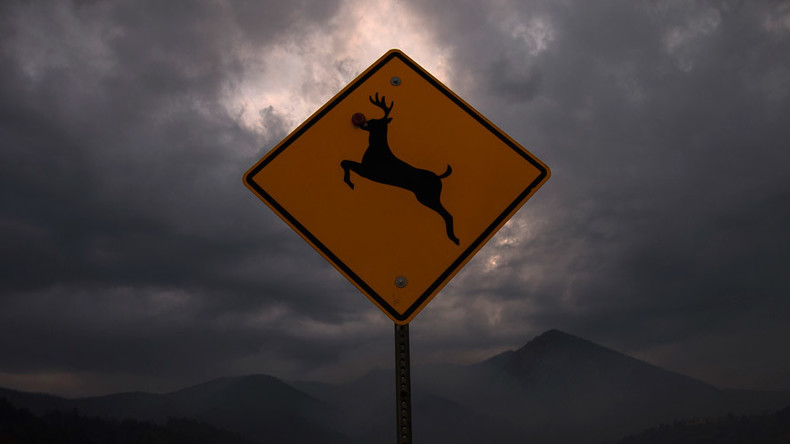 An unorthodox sign warning of "suicidal deer" is kicking up controversy in rural Iowa. While some appreciate the joke, others appear to be offended by the roadside novelty, arguing it trivializes tragedy and is itself a distraction to the drivers.
Located on Highway 105, just outside of St. Ansgar in northern Iowa's Mitchell County, the sign reads "Suicidal Deer, 2 Miles."
Meant to warn drivers of wildlife-dense areas, the sign triggered unexpectedly fierce reaction, however.
"I think it is a little insensitive," Sally Hertel, whose property is steps away from the Highway, told KIMT.
"Suicide? That makes it look like a joke, and myself, I have never had anybody close to me decide to take their own life, but I've had a lot of friends and other people who have and I know it is a sensitive subject," she added.
Social media also shared the locals' puzzlement, though most people were laughing at the new sign.
Iowa has taken the lead from Illinois, where a 'suicidal deer' roadside sign was set up in Paxton earlier this year.
"We saw a sign like this one in Illinois, and thought it would be an effective way to warn people of deer. We did not intend for it to be hurtful, but we will stand by the idea that it is an effective warning method," said Stan Walk of the Mitchell County Board of Supervisors. He stressed that causing controversy was not their intention, KIMT reported.
Walk reportedly said that the county has purchased more signs, but have no set date on when they will be put up.