Shocking 'body slam' attack on young Syrian boy in Turkey caught on CCTV (VIDEO)
Published time: 13 Mar, 2016 16:15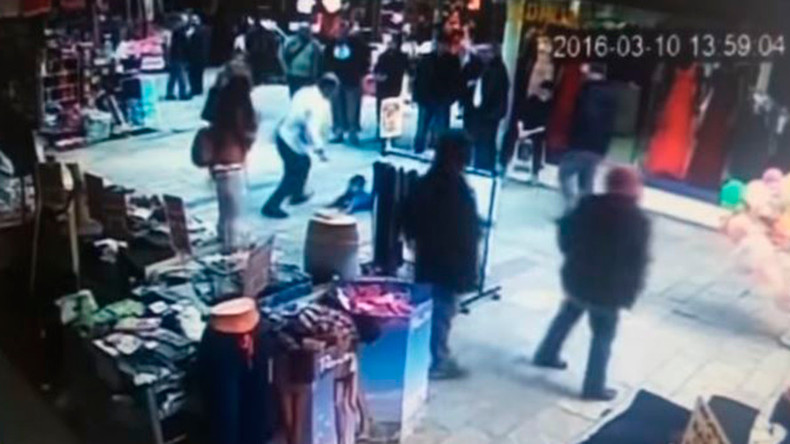 A shocking assault on a Syrian child has been captured on CCTV at a famous Turkish market, showing a street vendor picking the boy up and slamming him face first into the ground.
The appalling attack happened a week ago at Kemeralti Bazaar, a highly popular food and jewelry market in the city of Izmir, after the vendor accused the child of pushing his food cart into a woman.
In what seems to be a case of gross overreaction to a child's misbehavior, the street vendor chases the young boy, picking him up before throwing him forcefully onto the street paving.
A large crowd of passersby, clearly incensed at what they have just seen, round on the street seller, with one man striking him in the face.
The group can then be seen pushing the man off camera.
Eyewitnesses said the child was dazed and bruised, but was calmed down by passersby and left the scene after about 15 minutes.
Governor of Izmir, Mustafa Toprak, urged authorities to identify the man and take him into custody. In a tweet, Toprak thanked the "conscientious" and "sensitive" citizens for their reaction to the attack.
3-Çocuğa şiddet görüntülerini ileten ayrIca olay yerinde vicdani ve toplumsal tepki gösteren duyarlı vatandaşlarımıza teşekkür ediyorum.

— Mustafa Toprak (@ValiToprak) March 10, 2016
The man, referred to by Turkish media only as 35-year-old Musa S., could face charges of causing deliberate injury.
In the wake of local consternation over the footage, Turkish President Recep Tayyip Erdogan sent the young boy the gift of a bicycle.
Clothing has also been offered to the child, since identified as six-year-old Hasan from Aleppo, and his family, Turkish news website Daily Sabah reports.