Monster Batmobile: Russian 'Frankencar' is a Nissan on steroids (VIDEO)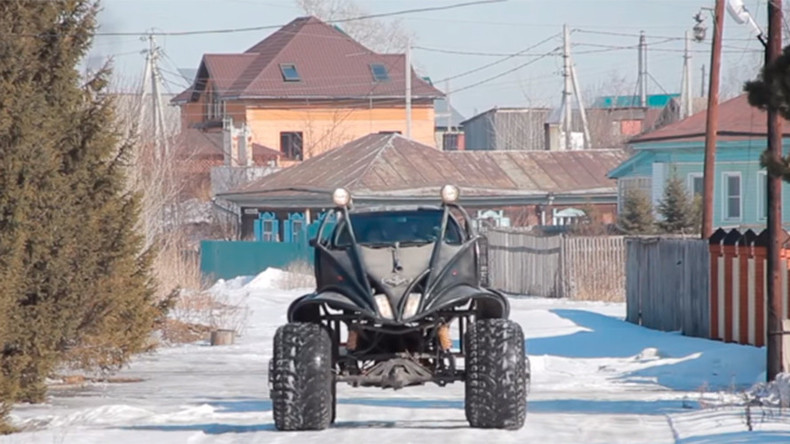 A Russian engineer has given a four-door family car an extreme monster truck makeover, fitting it with huge tires and a black body shell that looks like it came straight from a DC comic.
Struggling to find a suitable car for hunting and fishing trips near the Altai Mountains, Igor Sukhorukov always dreamt of building his own mean machine that could plow through the winter weather.
Which is why the Biysk engineer has let his imagination run wild, fitting super-wide monster truck wheels and a Batmobile-like body to a former family car.
The results are quite terrifying for fellow motorists: a run-of-the-mill four-door car after an extreme steroid binge.
READ MORE: Don't truck with the Russians: These all-action vehicles will blow your mind (VIDEO)

"The idea came long ago, in my childhood days when I wanted to travel around to different places for fishing and hunting. And there was nothing appropriate to drive," explains Sukhorukov.
The bizarre cross-country car can now be seen around the city of Biysk, with Sukhorukov riding high, far above the other traffic.
Amazingly, the Russian says the beast of a car is registered and he has had no problems taking to the open road.
"The working name for it is a Nissan Maxima. It has a badge, S and V, that can be deciphered differently, as freedom and will. But actually these are letters of my name," he added.