Action news: Reporter forced to dodge vehicle live on air (VIDEO)
Published time: 9 Mar, 2016 12:06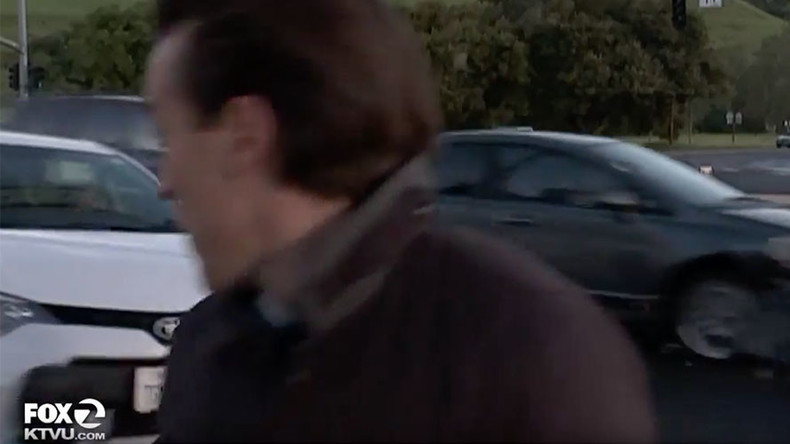 Being a television news reporter is a dangerous job, but someone's got to do it!
KTVU's Alex Savidge was in the middle of a fairly routine 'live shot' covering a train derailment outside of San Francisco in Alameda County when a car veered off the road, forcing him to leap out of the way.
The Tuesday morning near miss was averted thanks to his trusty cameraman Chip Vaughan who yelled at him to "get out of the way" just in time.
Heart pumping and pulse racing from his brush with death, the reporter thanked Vaughn live on air, giving him a hug as he held back tears.
"Let's never forget, WE'RE the real story." -Aaron Altman

— Kevin Madden (@KevinMaddenDC) August 7, 2015
Savidge was eager to get back on air despite being emotionally charged, telling the concerned crew back in the studio, "I am grateful to be ok, that's all I can say."
It wasn't a quest for 15 minutes of fame that caused the woman to veer, according to police. It is believed she hit the gas instead of the brake while avoiding a car.
Luckily no one was hurt in the incident. The woman's license has been removed, according to KTVU.
When he resumed broadcasting, Savidge also sent a personal message to tell his wife and family, "I'm ok, in case they hear it online."
We expect he went home to a good hug and a glass wine.