Epic anti-drone device fires web to neutralize aerial threat (VIDEO)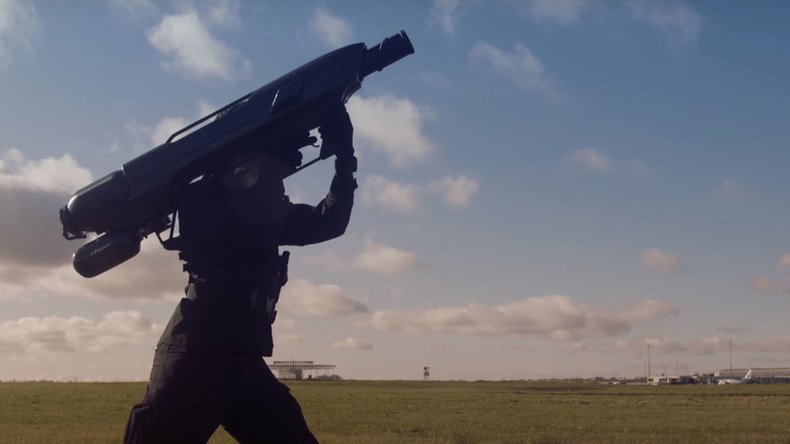 A quirky shoulder-mounted anti-drone device due to hit the market later this year looks like it's been inspired by the exploits of Spiderman.
The SkyWall defense system uses a 'compressed gas-powered launcher and an intelligent projectile' which deploys a net to engulf the drone and disable it. A parachute is also attached to ensure the 'aerial threat' can be recovered intact for examination.
SkyWall offers a number of models including hand-held and tripod-mounted launchers, and components can be fitted with alarms to help recover the netted drone.
The use of traditional weapons or other UAVs in the fight against drones has proven disproportionate and ineffective, according the manufacturers of this gadget, who promise us that the SkyWall100 is "highly mobile", requires "minimum training" and "can be rapidly reloaded allowing multiple drone threats to be quickly engaged by a single operator".
Those features will come in handy when we're forced to engage any pesky quadcopters flying over our backyard during an otherwise-enjoyable summer barbeque.
Certainly Belgrade authorities would have loved to deploy this device back in 2014 when a drone carrying the Albanian flag was flown into the Partizan Stadium during a highly-charged soccer international between Serbia and their neighbors.
A fight subsequently broke out between the players and the game was ultimately abandoned after a full-scale riot kicked off amongst rival fans.

This isn't the first time the spiderman approach has been used to deal with security threats. A Japanese company has recently invented a similar 'net projectile' to deal with intruders. It's effective from just two to three meters, but will certainly slow down would-be burglars by getting them all in a tangle.
READ MORE: Spidey senses tingling? Fend off attackers with new web gun!

Military installations, prisons, government buildings and airports are likely to take a keen interest in the SkyWall system given the ongoing threat posed by trespassing drones. Earlier this month a UAV came within meters of colliding with an Air France airliner coming in to land at Charles de Gaulle, Paris.
The SkyWall device is the latest in a number of anti-drone devices to come on the scene. While it takes a more direct, hands-on approach, products such as DualCam converts the sound of a drone into a visual map to detect unseen flying objects.
READ MORE: Keys to the drone: New audio-video technology sniffs out unseen flying foes

You can share this story on social media: