Football player pops out of his shorts during televised event (NSFW VIDEO)
Published time: 29 Feb, 2016 18:11
Edited time: 29 Feb, 2016 18:11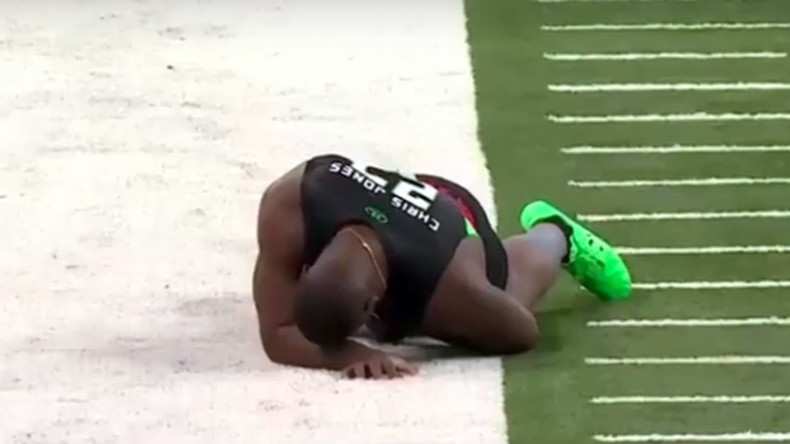 US college football player Chris Jones is now world famous for all the wrong reasons after a wardrobe malfunction caused his junk to pop out of his running trunks during a nationally-televised event.
As Jones reached the 40-yard dash finish line, his spandex shorts tried to give him an extra few inches of advantage by letting his third leg out for everyone to see.
He then appears to either trip over it, fall down to cover his shame, or have an intimate moment with the field, but not before an unfortunate camera angle confirmed he's 'a shower, not a grower'.
The defensive lineman's ego seems to be the only thing that got bruised, thankfully, as the ballsy Jones walked it off after doing what we'll call the 'Buffalo Bill tuck'.
Rumor is that Chris Jones took a performance enhancing drug for his 40 - mycoxafloppin.

I'll have to call and counsel him more.

— Hugh Freeze (@Couchhughfreeze) February 28, 2016
The costume cock-up drew unwanted attention to the Mississippi State player as the internet reveled in its pun-tential.
NFL commentator Rich Eisen summed it nicely, saying that when defensive linemen fall, they "fall long and hard."
The NFL combine is a week-long event where the best college football players compete in front of NFL coaches and scouts in the hope of making the upcoming draft.
Jones shows promise for the draft, so we hope this slip up doesn't see him get shafted.