Deadly Zetas cartel co-founder extradited to US
Published time: 12 Sep, 2012 21:36
Edited time: 13 Sep, 2012 01:36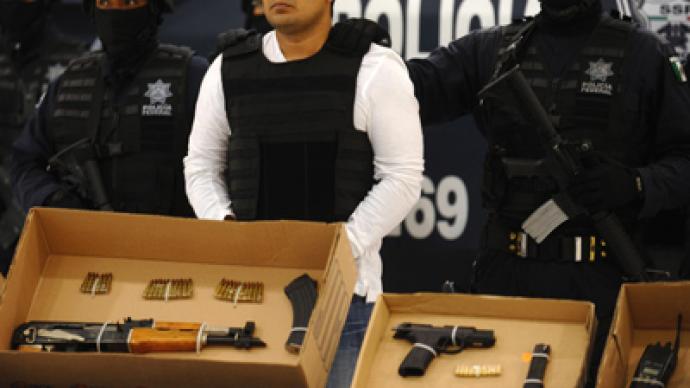 A Mexican drug lord that co-founded the infamous Zetas cartel and has been accused of killing a US Immigration and Customs Enforcement agent during a 2011 shoot-out has been extradited to America.
Jesus Rejon, also known as Z-7, was transferred out of Mexican custody and handed over to American authorities on Tuesday, 14 months after being captured in connection with the February 2011 murder of a US federal agent earlier that year.
Rejon, a founder of the notorious Zetas gang, is believed to be responsible for the execution of Jaime Zapata, an ICE agent who was gunned down while on assignment in Mexico. The incident left one other customs officer injured.
Rejon was captured in July 2011 just outside of Mexico City and relocated to Washington this week after he was handed off to the US Marshals Service and the Drug Enforcement Administration at Toluca International Airport in Mexico state. The Mexican Attorney General's Office confirms that Rejon will be tried in a US federal court over the charges, but declined to explicitly note the February 2011 execution in his statement on the extradition.
"Once the stages of the extradition proceedings were exhausted, the Foreign Relations Secretariat issued the corresponding agreement via which the government of Mexico granted the extradition of the subject wanted by the government of the United States," the Attorney General reports.
Before he was first found last year, the US government had offered a $5 million reward for the capture of Rejon and worked closely with Mexican authorities to track him down. In the five years before then, though, the Zetas had been tied to as many as 40,000 fatalities in an ongoing drug war that has claimed lives on both sides of the border.