Woman shackled while in labor wins suit against sheriffs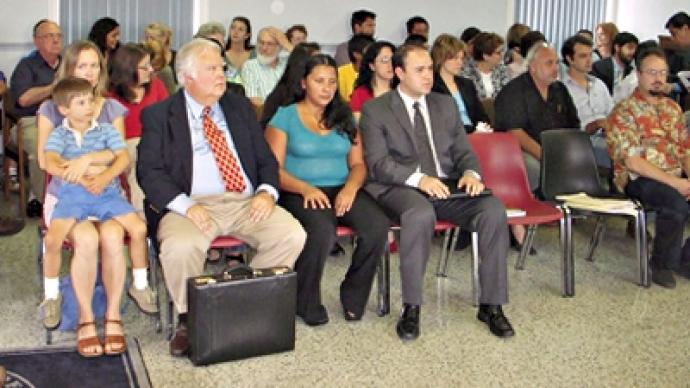 It took a Tennessee jury less than an hour yesterday to award a woman $200,000 after she won a suit against the Davidson County Sherriff's Office for infringing her constitutional rights.
Juana Villegas' attorneys were seeking over $1 million in compensation after the woman's wrists and ankles were shackled as she was transported from a Tennessee jail to a hospital to give birth. Officers found it necessary to cuff the woman's limbs in the ambulance ride en route to the hospital while she was going into labor. Immediately upon giving birth, the restraints were reapplied.Despite the ordeal, Villegas gave birth with no complications for the child or mom, but she still went after the county for violating her rights."I was afraid for my son, because if he were to be born in the ambulance, I didn't know if I was going to be able to open my legs so he could come," Villegas said in a statement.Villegas was arrested in July 2008 for a minor traffic violation that was later dropped. For being in the country illegally, however, she was detained by sheriffs and held in jail, despite her condition. Jurors were not allowed during the trial to know her immigration status.Sheriff Daron Hall responded to the settlement with little remorse. He tells Nashville's City Paper that "whether it was a dollar or a million dollars" didn't matter, as the Sherriff's Office was intending on appealing the judgment anyway. They decided in April that they would file for an appeal but had to wait for the case, settlement included, to conclude. That month, US District Judge William Haynes awarded the judgment without a trial, ruling that Villegas' constitutional rights were violated by sheriffs who showed indifference to her medical needs.Once she gave birth in the hospital, Villegas had her legs shackled again when she got up to use the restroom. In bed she had one leg shackled to the bed and was also prohibited from using a breast pump.Despite the Sherriff Department's insistence on an appeal filings and compensation grossly short of what was sought, Villegas' lawyers still saw the settlement as a victory."The effects of the court's decision from the verdict today will improve communities throughout the country," said Phillip Cramer, one of the representatives for Ms. Villegas."As painful as reliving the events today and for this trial has been for Juana, justice has been done, and she will be able to receive some of the treatment that she needs," added Cramer.
You can share this story on social media: