Woman injured in Empire State Building shooting sues NYPD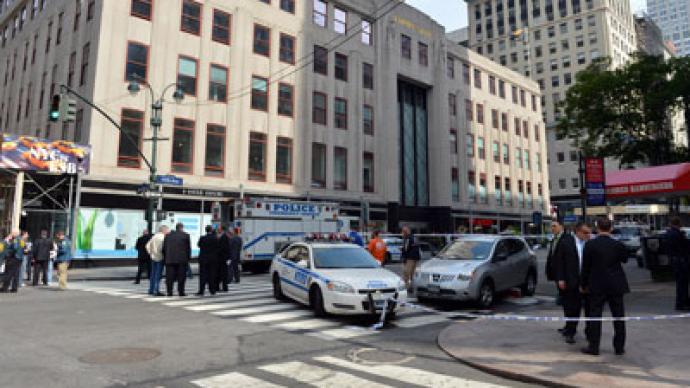 The NYPD is facing a lawsuit from a woman who was injured in a police shootout outside of the Empire State Building in New York last summer. The 32-year-old was crossing the street when a stray bullet wounded her and eight other bystanders.
"I was just crossing the street," Chenin Duclos told CBS News. "I wasn't doing anything wrong and quickly life changed."Duclos, who was visiting Manhattan on Aug. 24, 2012, was caught in the middle of gunfire as New York police officers opened fire on 58-year-old Jeffrey T. Johnson, who was suspected of shooting to death his former co-worker just minutes earlier. Ricocheting debris and stray bullets struck nine nearby bystanders ranging from age 20 to 43. All of the victims were hospitalized, but only three spent the night due to their injuries.Video surveillance of the scene shows tourists running away and hiding behind buildings when the two officers began firing 16 rounds of ammunition.Although none of the bystanders suffered fatal injuries, the woman from North Carolina is now seeking unspecified compensation for the damage the bullet did to her hip. The 32-year-old must now undergo physical therapy at least once a week.The lawsuit claims that the officers "failed to follow and to exercise proper police tactics and procedures" and that they "escalated the situation into a dangerous and deadly confrontation."Duclos said that she feels sorry for the position that the police officers were put in, but that the NYPD should have at least offered to assist her with her medical bills."They didn't say, 'if you need any help with your medical bills let us know, we will help you. We will assist you.' None of that was done," said Amy Marion, one of Duclos' attorneys.CBS News senior correspondent John Miller, a former NYPD deputy commissioner, said he understands the perspective of the police officers, who had only a few seconds to act when Johnson raised his gun at them. But because of the way Duclos' attorney put together the lawsuit, it's possible that she will win a settlement.Trial attorney and legal analyst Rikki Klieman said that because the lawyers pointed out 19 separate acts of negligence on behalf of the officers, they have a good chance at winning the case. But Miller believes a trial should not come this many months after the incident, and that the city should have come up with a settlement before taking the case to court."I think (a settlement) should have happened in the first 90 days. When they filed their notice of the claim, the city should have stepped up and done the right thing rather than put these cops in this position," he said.
You can share this story on social media: