Huge explosion in Westminster, Colorado, two homes destroyed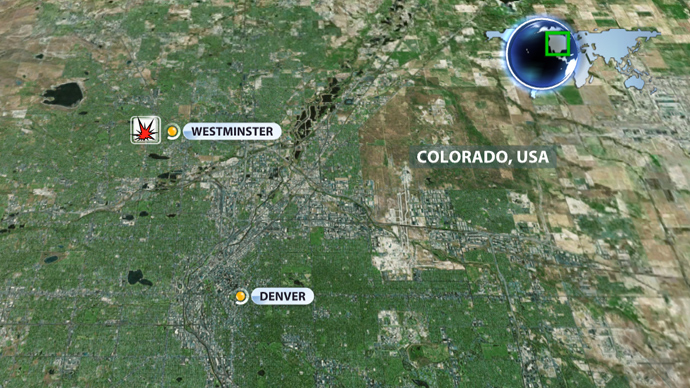 Two homes have been blasted apart in Colorado's state capital after an explosion, reported to be caused by gas, according to local channel 7News Denver. Debris scattered everywhere and a number of people remain unaccounted for.
A further 7-8 homes were damaged in the explosion, and two are reportedly injured. The blast happened in the Westminster district of Denver at around 11:30 a.m. local time.

Whoa, an explosion leveled one or two homes in a Westminster, CO neighborhood. Photo @denverchannel's live stream: twitter.com/corybe/status/…

— Cory Bergman (@corybe) June 13, 2013


"It was a huge, huge explosion. I can't describe it, it was so loud," local resident Nancy Passerella told CBS Denver.

Video footage from the disaster's aftermath was obtained by 7News Denver from airtracker7.


Firefighters are unsure if the explosion was started by natural gas or propane, according to the channel. They are sifting through the wreckage of the houses, searching for people that may have been trapped. 2/3 people have not yet been located in the aftermath of the explosion.
Xcel Energy told 7News it has turned off the gas in the area.
Some eight blocks in the area were initially evacuated, as a strong smell of gas hung in the air. However, residents are being allowed to return to their homes. Only two cul-de-sacs are presently under evacuation orders.
Home destroyed on 9300 block of IngallsSt in Westminster explosion. twitter.com/nonstopTLo/sta…

— Tyler Lopez (@nonstopTLo) June 13, 2013