Zombies attack Westboro Baptist Church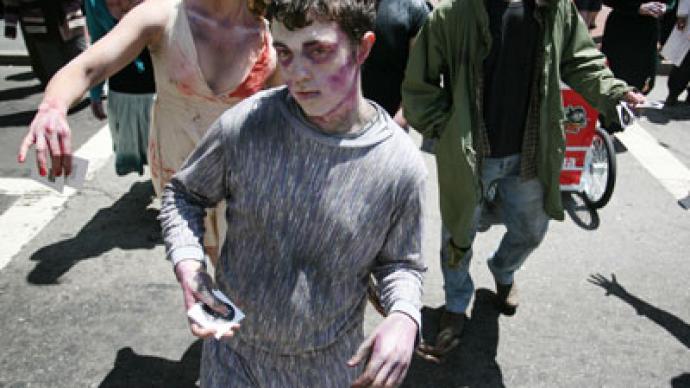 Protesters in Washington State have found a way to fight hate speech: a demonstration outside of a military base led by the Westboro Baptist Church on Friday was upstaged by around 300 counter protesters, all clad as zombies.
Hundreds of protesters donned ripped clothing and gory make-up to resemble the walking dead during a Friday demonstration meant to show-up a rally being held by the Westboro Baptist Church in Seattle, Washington. Members of the small Kansas-based congregation have made headlines nationwide in the past after picketing high-profile funeral services and other events with signs proclaiming slogans such as "God Hates Fags," an anthem that has since become the calling card of the group and even serves as URL of the church's official website. The WBC has garnered extra attention in recent weeks for plotting protests outside of the memorial services for victims of the Aurora, Colorado massacre and was in Washington State this weekend to rally against the US military."When you goofy, unthankful, flag-worshipping fools decided that you would declare war against the Lord and against His anointed, you put yourselves in the cross-hairs of a raging mad God. We will come to tell you a few things, to wit," the WBC wrote before their protest on a missive published on their site.On Friday, members of the church were indeed in attendance to say a few things to those that would listen outside of Joint Base Lewis-McChord, but were outdone by around 300 staggering zombie counter protesters. Melissa Neace of Spanaway, WA was once of the people instrumental in starting the counter protest over Facebook, where over 3,500 people were invited to attend. When asked by the News Tribune to explain the need to draw attention to the WBC, she said she thought it was necessary to expose the insanity behind the group's own message."We wanted to turn something negative around, into something people could laugh at and poke fun at," Neace says. "It was the easiest way to divert attention from something so hateful."Only around eight members of the church actually made it to the joint military base to protest, which allowed their rally to be easily dwarfed by an army of 300 zombies opposed to what many say are misguided messages that spawn hate."I think that their message is very hateful, and Jesus was not a hateful person. He loved everybody," one of the counter-protesters told local KIRO. Another counter-protester, one with close ties to the US military, opposed the message the WBC advertised on Friday. "I come from a long line of military, including my husband. So if they're going to protest my troops, I'm going to protect my first amendment and protest them," Ashlee Nerad adds to KIRO.Outside of the base and on the Web, hacktivists with the loose-knit Anonymous collective announced only days earlier the preliminary plans of an online campaign that they hope will crush the Internet presence of the church."They have hurt too many people, and letting this go on without any action being taken is not okay," the message reads. "While, yes, Freedom of Speech is the First Amendment — there are ways to violate it. Which WBC partakes in by: slander; defamation; libel; harassment; verbal abuse; threats.""If you can hack, hack their website," the post asks.