Texas blast: Ammonium nitrate's fertile history of devastation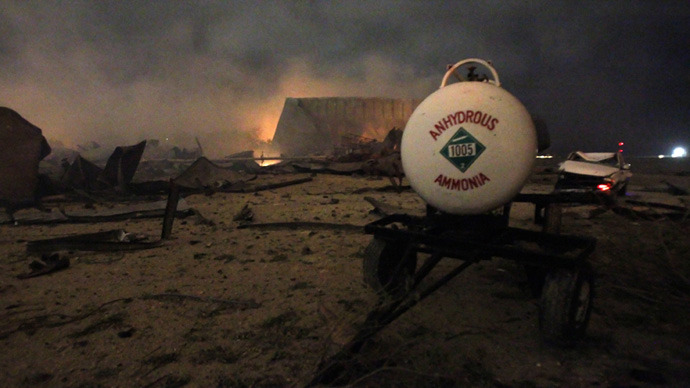 The blast that rocked a Texas fertilizer plant like a "nuclear bomb" was one of the largest US industrial accidents in recent history. But the cause - the fertilizer anhydrous ammonia - has been responsible for thousands of deaths since its invention.
Over 160 people are reportedly in hospital, with an unknown number of fatalities, and surrounding homes and buildings leveled to the ground.

A local state trooper compared the annihilation in the West explosion to Iraq war scenes and the 1995 Oklahoma City bombing, describing the scene as an 'unbelievable tragedy'.

"I can tell you I was there, I walked through the blast area, I searched some houses earlier tonight. It was massive, just like Iraq, just like the Murrah building in Oklahoma City," said local state trooper D.L. Wilson.


Al Vanek, a city council member, reported a four block section near the explosion had been "totally decimated."

The scale of destruction has reminded eyewitnesses of other catastrophic explosions of similar magnitude, including the deadliest industrial disaster in US history, which occurred almost 66 years ago to the day.

On April 16, 1947, a small fire aboard a French shipping vessel docked in the gulf port city of Texas City, Texas, triggered the detonation of 2,300 tons of anhydrous ammonia, the same substance used in the Adair Grain West Fertilizer Plant.
Anhydrous ammonia, the substance that caused the Texas explosion, is an affordable and widely-used fertilizer that nonetheless has to be handled with extreme care at all stages of use. It was first artificially obtained by Fritz Haber, a German scientist (who received a Nobel Prize for his discovery) a century ago.


Made up mostly of nitrogen, it turns into a gas at temperatures warmer than -33 Celsius, but is usually stored as a liquid in special cold tanks that are able to withstand high pressure. Normally, it is injected into the soil, where it expands into a gas, or mixed with other substances as a base ingredient of many other fertilizers.

If it escapes the container, and mixes with oxygen, it can become highly explosive. The gas is also caustic – it irritates skin, eyes and lungs. Over short periods of exposure, the effects are reversible, but prolonged contact can be fatal. The gas can also be toxic even if not visible, though ammonia has a distinctive smell.

Firefighters usually use carbon dioxide, dry chemicals or a water spray to put out anhydrous ammonia fires.
Five hundred and eighty-one people perished and thousands more were injured, and the industrial boomtown of about 15,000 was left in ruins, buildings flattered and poisonous gas left in a lingering haze.
Friday will mark the 18th anniversary of the most destructive home-grown act of terrorism on US soil – the Oklahoma City bombing- which killed 168, including 19 children, and injured 680 people. Timothy McVeigh used pesticides and fertilizer – also the same type - to construct his home-made explosive devices. 
Adair Grain's DBA West Fertilizer Company is an anhydrous ammonia facility that produces pesticides, situated 80 miles (130 km) south of Dallas and north of the capital city, Austin.
Europe has also experienced many ammonium-related industrial blasts.
Poor mixing of ammonium sulfate and fertilizer in a plant in Oppau, Germany, caused an explosion that claimed 450 lives and destroyed 700 houses in 1921. It is assumed that poor mixing caused the fertilizer-ammonium concentration level to miss its 50:50 target and an excess of ammonium nitrate amassed, causing the explosion.

In 2001, 29 people were killed at a chemical plant in southwest France, which injured hundreds and damaged nearby schools, hospitals, and homes.