Bridge collapses following truck collision in Washington state, 3 injured
Published time: 24 May, 2013 05:23
Edited time: 24 May, 2013 19:02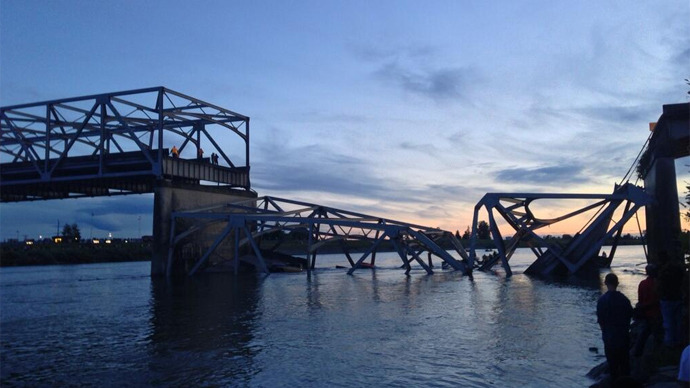 Part of a road bridge has collapsed into the Skagit River in the state of Washington injuring 3 and sending some cars into the water. The incident occurred when a tractor-trailer carrying a tall load hit an upper part of the span, police said.
The three injured were rescued from the water and hospitalized. No fatalities were reported. Two other vehicles were sent plummeting into the water below.

Initially, it was speculated that the bridge collapsed on its own, but Washington State Patrol Chief John Batiste later confirmed that a truck collision caused the structure to crumble.

"For reasons unknown at this point in time, the semi struck the overhead of the bridge causing the collapse," King 5 News cites Batiste as saying.

The trucking company involved says it had received a state-issued permit to carry its oversized load across the bridge. Mike Allende, a state spokesman for the Department of Transportation, confirmed the truck had a permit.
"We're still trying to figure out why it hit the bridge," he said. "It's ultimately up to the trucking company to figure out whether it can get through. It's their responsibility to make sure the load they have can travel on that route."
Governor Jay Inslee declared a state of emergency for the surrounding countries, estimating that it would cost $15 million to repair the bridge.

A driver who was on the bridge at the moment of the collapse told the newspaper that he felt a vibration, looked in his rear-view mirror, and saw that a section of the bridge was no longer there.
"I hit the brakes and we went off the bridge," Sligh told reporters from Skagit Valley Hospital, adding he "saw the water approaching ... you hold on as tight as you can."
Witnesses posted on Twitter images of the section of the bridge that collapsed, including one of a person sitting on top of a car.
The four-lane bridge is located on a rural stretch of Interstate 5, about halfway between Seattle, Washington, and Vancouver, British Columbia. The bridge was built in 1955, according to the website for the privately run National Bridge Inventory Database.

Some US infrastructure is aging faster than its planned maintenance, exposing serious technical problems. This is not the first time in recent years that a road bridge in the US suddenly collapsed, sending vehicles into rivers and causing casualties.

In 2007, an eight-lane steel bridge on I-35 crossing the Mississippi River near Minneapolis, Minnesota, collapsed during the evening rush hour, killing 13 people and injuring 145 others.