America facing infrastructural collapse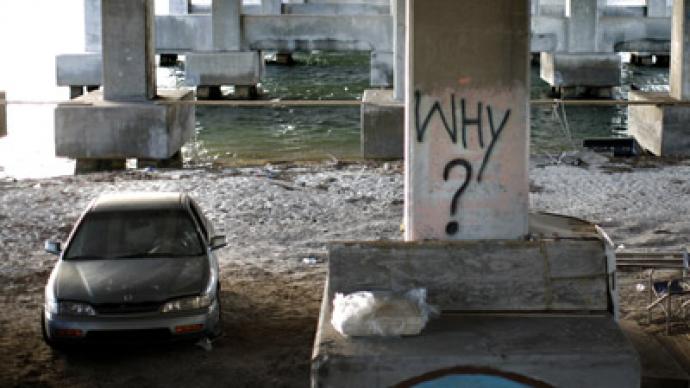 The US has been neglecting its infrastructure, putting lives at risk and weakening the economy as pipelines, bridges, roads, dams, and water mains fall apart.
Natural disasters like this month's Hurricane Isaac shed the spotlight on America's poor infrastructure as 100,000 people were left without power for a week and 2,800 checked into shelters to escape the flooding in their homes.
The American Society of Civil Engineers recently gave the US a grade of "D" for its infrastructure on an A-F scale. The group recommended that America spend $2.2 trillion on repairs and maintenance to bring the crumbling country back up to standard.
After Hurricane Katrina struck New Orleans in 2005, the US government was forced to spend $14.5 billion to build flood defenses, levees and pumps to prevent another catastrophe. While no levees fell apart after Hurricane Isaac this year, the US is still suffering the deterioration of many of its other infrastructure elements.
"America has scrimped on taking care of the public furniture, endangering people and weakening the economy as bridges rust, roads crumble, dams weaken and water mains leak," writes David Cay Johnston, author ofThe Fine Point, in an article for the Daily Beast.
The worst infrastructure is corporate-owned, writes Johnston. High-pressure oil and natural-gas pipelines can easily explode without warning, electric power poles need to be replaced, and the telecommunications system is gradually getting worse. Of 2.5 million miles of pipeline in the US, one third are older than 40 years – which played no small role in the 10,483 reported pipeline accidents or explosions in the past decade. Many high-pressure pipelines have almost 70 percent of their walls corroded, but have still been granted safety-inspection waivers by the Department of Transportation – even though the National Academy of Engineering warned about these dangers in 2004.
In 2010, a natural-gas pipeline explosion caused the deaths of 8 people and the destruction of 38 homes near San Francisco.
Crumbling infrastructure can also be found in the US transportation system. Each year, traffic jams caused by insufficient infrastructure waste a total of 4 billion hours of commuters' time and 3 billion gallons of gasoline. Overall, a decaying transportation system costs $78 billion annually in lost time and fuel, according to carinsurance.org. Additionally, one in four US bridges are unstable or carrying more traffic than designed for.
"If our infrastructure earned a D, how long will it be before that grade slips to a failure?" reads a banner created by carinsurance.org.
This summer's record-breaking drought that plagued most US states has also left its mark on the country's infrastructure. A US Airways jet become stuck in melted asphalt. A subway train derailed after the heat stretched its tracks. From highways to homes, infrastructure has been shrinking and cracking, causing billions of dollars in damages. Nuclear power plants have been forced to shut down because the heat raised the temperature of their cooling water.
And in a struggling economy, each additional natural disaster will take its toll on the already-weak US infrastructure, putting American lives and finances further at risk.
You can share this story on social media: