More than 50 arrested after largest civil disobedience act ever against Walmart (PHOTOS, VIDEO)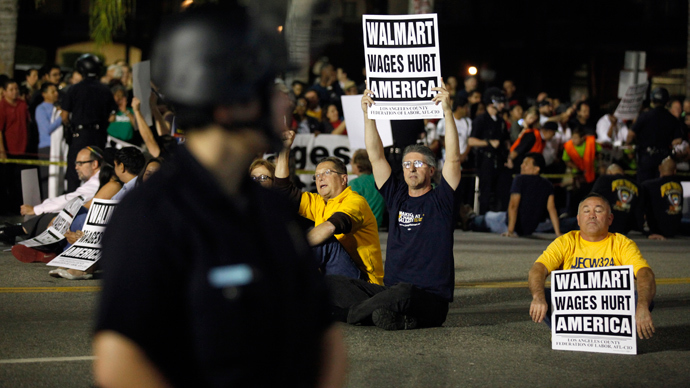 Los Angeles police arrested more than 50 people out of a crowd of 200 protesting what they believe to be unfairly low wages provided by Walmart.
The protest took place Thursday night outside a new Walmart store in Chinatown and was intended to highlight demand for higher wages. It was scheduled to last from 4:30 p.m. to 6 p.m., but dozens of people refused a police order to disperse after their permit expired, keeping the streets closed until law enforcement officials declared an unlawful assembly.
Police then arrested 54 people – including, according to the protest's organizers, some Walmart employees – without incident, keeping them in jail overnight unless they posted bail.

The protestors' primary demand is that no full-time Walmart employee earn less than $25,000 a year. Organizers claimed it was the largest act of civil disobedience against Walmart in company history.
The Huffington Post spoke to "one of several dozen" Walmart employees participating in the protest. Anthony Goytia, a 31-year-old father with two children, said he expects to make only $12,000 this year.
"The power went out at my house yesterday because I couldn't afford the bill," Goytia explained. "I had to run around and get two payday loans to pay for my rent from the first" of the month. "Yesterday we went to a food bank."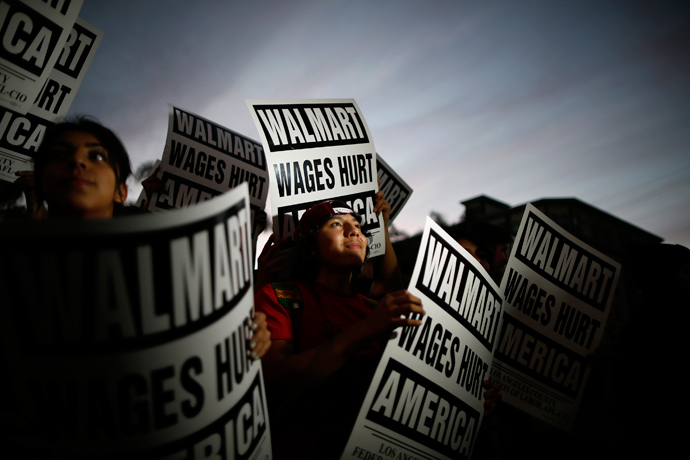 Walmart spokesman Kory Lundberg downplayed the protest's goal of a $25,000 floor, saying hundreds of thousands of employees already earn more than that, and everyone has the opportunity to do so. Lundberg also said that the number of workers participating in the protest is effectively zero when compared to how many people the company employs.
"We've seen time and again there are virtually no [Walmart] associates participating in these orchestrated events because they know the truth about working for Walmart," Lundberg said to Reuters.
"We provide our associates with more opportunities for career growth and greater economic security for their family than many other companies in America," he added.
According to the Huffington Post, Walmart CEO Bill Simon recently revealed that more than 475,000 Walmart employees earn more than $25,000 a year, leaving anywhere between 525,000 to 825,000 workers making less. Opponents of Walmart claim that with $17 billion in profits, the company can afford to pay its employees at least $25,000.
Democrats in the U.S. House of Representatives, meanwhile, have proposed raising the federal minimum wage from $7.25 an hour to $10.10 an hour and tying future increases to inflation. President Obama came out in support of the measure on Thursday, though it's unclear what kind of raise Republicans are willing to get behind.
You can share this story on social media: