Walmart organizes charity food drive for own employees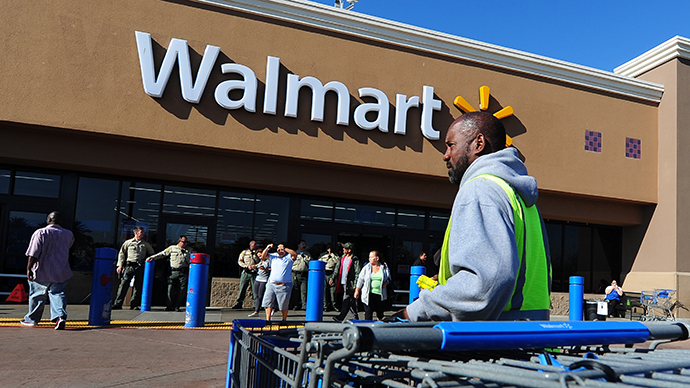 A Walmart store in northern Ohio is holding a holiday food drive to benefit its own employees. The charity announcement comes after the mega-store said it would open on Thanksgiving and at a time when low-pay US workers are protesting for higher wages.
"Please donate food items here so associates can enjoy Thanksgiving dinner," reads a sign placed above two plastic bins in an employee-only area of a Canton, Ohio store. A photo of the bins has quickly gone viral, outraging potential customers and creating a public relations nightmare for a corporation that has seen its share. 

Walmart holding canned food drive for its own underpaid employees http://t.co/9E1fONCZAppic.twitter.com/0JiVu0a3Ip

— ThinkProgress (@thinkprogress) November 18, 2013
Critics have charged that the food drive is just more evidence that Walmart, one of the leading brands in America, should pay its workers more. Bill Simon, the company's president and CEO, recently admitted that most of Walmart's approximately one million associates make less than $25,000 annually - not leaving much room for those who wish to stay above the federal poverty line of $23,550 for a family of four. 
Norma Mills, an organizer for anti-foreclosure group Stand Up for Ohio, told the Cleveland Plain-Dealer that she felt "anger" and "outrage" upon seeing a picture of the bins. 
"Then I went through the emotion of compassion for the employees, working for the largest food chain in America, making low wages, and who can't afford to provide their families with a good Thanksgiving holiday," she said. "That Walmart would have the audacity to ask low-wage workers to donate food to other low-wage workers – to me, it is moral outrage."
Walmart company spokesman Kory Lundberg said the food drive shows just how much the employees are willing to do for one another.
"It is for associates who have had some hardships come up. Maybe their spouse lost a job," he said. "This is part of the company's culture to rally around associates and take care of them when they face extreme hardships." 
This Thanksgiving will mark one year of demonstrations against Walmart, with protests taking place throughout the US last year on Black Friday. The company has been accused of paying employees too little, being too slow to correct unsafe working conditions, and retaliating against employees who speak out. One Ohio employee, speaking anonymously for fear of losing her job, told the Plain-Dealer that she had never seen anything so "demoralizing" in her 12 years at the store.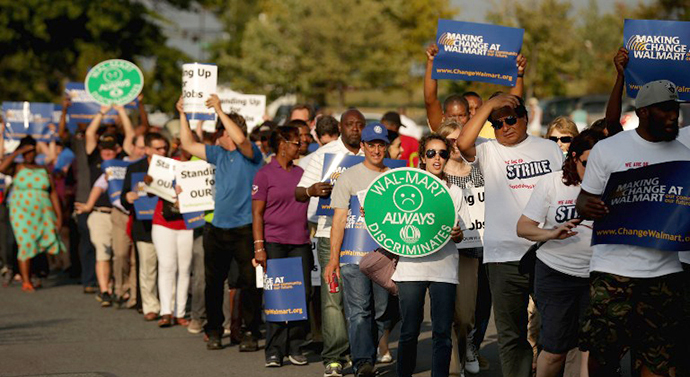 Scott Stringer, who works at another Ohio store, said he intends to go on strike this holiday season, in part because he only makes $9.30 an hour after five years of working for the company. 
"Walmart sets the precedent for everybody, so if they make changes, everyone would follow suit," he said. "The economy and the United States, in general, would be a better place." 
This pressure comes as the National Labor Relations Board, responsible for enforcing private sector law, is reportedly ready to issue a complaint against Walmart. OUR Walmart, an employee advocacy group, told reporters Monday that the NLRB charges will include "threats by managers and the company's national spokesperson for discouraging workers for striking and for taking illegal disciplinary actions against workers who were on legally protected strikes." 
Defendants charged by the NRLB often commit to reinstating fired workers, making a financial settlement, or other measures in order to avoid going in front of a federal judge. If a federal judge decides against the defendant, the defendant can appeal to the five presidentially appointed board members. 
"When Walmart workers stand up for their rights, for each other, Walmart often responds by retaliating," AFL-CIO president Richard Trumka told media outlets. "The AFL-CIO has committed the full weight of the labor movement ro support these brave, determined Walmart workers, and to end this epidemic." 
Last year, tens of thousands of people signed a petition asking Walmart not to open at 8:00 p.m. on Thanksgiving, saying the company and its $17 billion in profits "can afford to give its employees this holiday to spend with their families." 
Regardless of any pushback, Walmart has joined Best Buy, Target, Kmart, and five others in deciding to open at 6:00 p.m. on Thanksgiving Day to take advantage of Black Friday shoppers. 
"Black Friday is our Super Bowl of retail, and it's very important to us," Duncan Mac Naughton, the corporation's US chief of merchandising and marketing officer, said during a conference call. He added that it will be easy for employees to leave their families because they will have "a nice Thanksgiving dinner at work. We appreciate each of our associates and the time that they dedicate."
You can share this story on social media: