Clowns and matador fight Wall Street bull (VIDEO)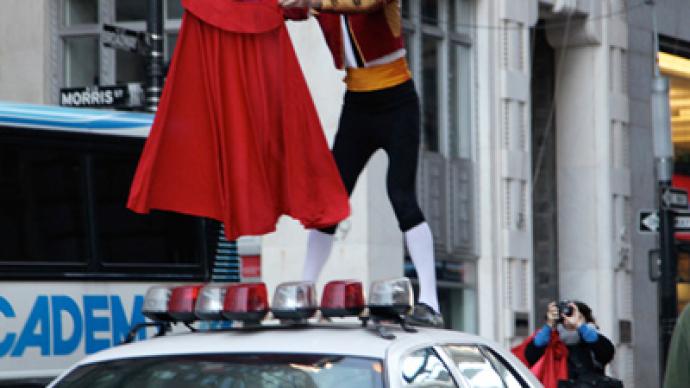 If you ask anyone involved in the Occupy movement, they'll be sure to tell you that Wall Street is full of clowns. In a new video circulating the Web, some demonstrators decided to give them some company.
Hannah Morgan and Louis Jargow were arrested and charged with disorderly conduct for donning clown attire, hopping a barricade in front of the iconic Charging Bull statue adjacent to Wall Street and horsing around in front of the bronze beast until the NYPD could apprehend them.Nearby, an accomplice decorated in a full-blown matador uniform, vied for the bull's attention while the clowns were detained by police.This, we believe, was Wall Street's first rodeo.
"This bull has ruined millions of lives!" Jargow exclaimed while police brought him to the ground. "Yet he and his accomplices have been rewarded with billions of our tax dollars and we, here to put a stop to it all, are thrown to the ground.""¡Un escándalo!" he yelled, or "a scandal!"As police cuffed Jargow and Morgan for clowning around, the matador — unbeknownst to police — mounted the cop car and waved a red cape at the bull. In classic Wall Street style, the bull did nothing to acknowledge the everyman before him."I wondered whether I, neophyte matador, could bring down this behemoth, world-famous for charging towards profit while trampling underfoot the average worker," said the bullfighter. "Come what may, I knew I must try." Upon the installation of the statue in 1989, artist Arturo Di Modica's assistant, Kim Stippa, said the intention of the piece was "to encourage everybody to realize America's power." The Charging Bull monument has since become a symbol of Wall Street, for its good and for its bad. Canadian anti-corporate magazine AdBusters used Di Modica's artwork in their initial campaign to kick-start the Occupy Wall Street movement this summer before an encampment in Zuccotti Park began.Undetected by the NYPD, the matador was not charged with any crimes. The clowns, however, were brought in and booked only to be released around an hour later.
You can share this story on social media: