Vote in key battleground state of Ohio already challenged in court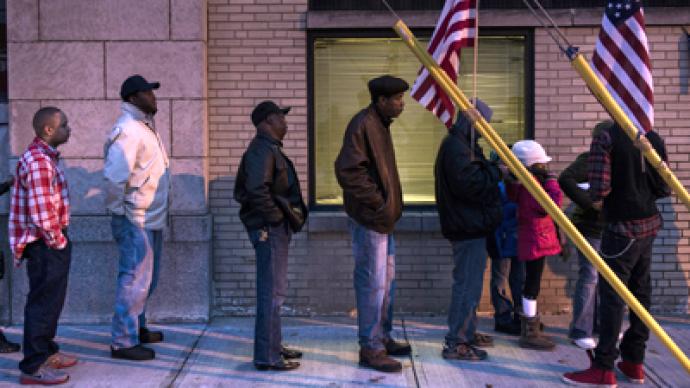 Residents of Ohio are braving long lines this Election Day to cast votes for the next president, but a federal judge there has been busy himself: assessing a lawsuit that challenges the electronic machines tallying ballots across the Buckeye State.
As voters in the Midwest state hit the polls hard to help elect the next president, US District Judge Gregory Frost has been figuring out how to handle a lawsuit entered on Monday that calls into question an allegedly top-secret software patch that the Ohio secretary of state signed off on installing on electronic voting machines from Columbus to Cleveland. After hours of deliberating through Tuesday afternoon, though, Judge Frost denied a temporary restraining order that would have prevented polling places in Ohio from using the machines in 39 counties equipped with a software fix that was not reviewed by the state.On Tuesday morning as the polls opened, Judge Frost heard oral arguments from both sides in a case that could shine light on another case of voter fraud, this time by way of a computer back-door that lets unauthorized persons access and manipulate votes placed in the key battleground state. Plaintiff Robert J. Fitrakis says that Ohio Secretary of State Jon Husted inked a deal last month with Omaha, Nebraska -based Election Systems & Software Inc. that allowed the company to update the voting machines with a software patch that has not been proved safe.Because of the patch, Fitrakis says in court filings, "There is an imminent risk that persons who are not under the supervision and control of defendant Husted, and who are not under the supervision and control of Ohio's boards of elections, will use the ES&S 'back door' to access the recording and tabulation of votes cast by Ohio voters in the General Election on November 6, 2012 using facilities not under the control of defendant Husted or Ohio's boards of elections.""Once they access the recording and tabulation of votes cast by Ohio voters," Fitrakis warns, malicious hackers could cause "irreparable harm" by alter votes recorded on the machines in question."The defendants may try to argue that this new system does not by itself tabulate votes, and is therefore immune from being tested as provided for by law," he writes. "They are wrong."The actual voting machines deployed across much of the United States on Election Day have to undergo a series of tests to ensure that all software involved is up to snuff, but the deal signed only a few weeks ago on September 19 between Ohio Assistant Secretary of State Scott Borgemenke and ES&S suggests that there was no oversight involved in acquiring the software fix."We did not touch, update, patch or do anything to the tabulation systems or the voting machines," Matt McClellan, a spokesman for Husted, told Bloomberg News on Monday. He says, "There's no vulnerability to the system whatsoever," and considers the plaintiff's claims "ridiculous."Speaking to the Cleveland Dealer this week, MClellan added that the fix itself wasn't exactly a patch being installed on the machines, so to speak, but rather officials the addition of a reporting tool that serves to "assist counties and to help them simplify the process by which they report the results to our system.""It basically just creates a one-way flow of information — and that is simply from their system, out. So at no point in time are we going into their system and messing with anything," the spokesman added."We are confident that the pending legal proceedings will find the basis of this claim to be false," ES&S added in a statement of their own. According to Fitrakis, though, the case is quickly turning into one side's argument over another with little factual evidence to prove the company's claims. Michael Duniho, a 37-year veteran of the US National Security Agency, testified on behind of Fitrakis early Tuesday and compared an electronic voting machine to "a black box.""It's difficult to tell what's in it," Duniho said. "You have a statement of what the software is intended to do, but what the software actually does is completely unknown," until the source code can be examined and tested thoroughly, Bloomberg reports."Our position is we don't know what's in [the software], but it seems to violate state law and federal law," Fitrakis said during Tuesday morning's brief hearing. "Under Ohio law, it's supposed to be tested by the Ohio board of voting machine standards."An affidavit supplied by voting machine expert James Marsh on behalf of the plaintiff acknowledges that all software used in elections have always been closed-source applications, meaning "the only barrier to fraud is the mandated independent code-review process," he said, which they say the state should have done before signing off with ES&S. "Looking at the contract, the vendor agrees to test the software itself, at some later point in time," papers filed by the plaintiff read. "There has been no examination of the software that gives any information as to what it does. The only persons who know exactly what this software does are ES&S' own programming staff. Just because ES&S claims that this is 'reporting software' which does not change the tabulation method does not mean that it its claim is true. The law requiring testing and certification exists exactly because we do not make that kind of presumption. The average adult does not install software on his computer without scanning it for viruses and malicious code. Yet defendant Husted has done so in this case simply because ES&S claims that there is no malicious code."In the claim filed by the plaintiff's counsel, any change made to the inner workings — no matter how minute — could have an impact on the election and should therefore have been audited and analyzed before the state secretary signed off on a pricey, no-bid contract with the company. "It alters the whole system," Fitrakis writes. "There is no objective proof that the new software will not adversely affect the existing software in some unforeseen way. Almost every adult in the country has had experience with software packages that adversely interacted on their personal computers in unforeseen ways. There is no evidence that this will not happen here, other than the vendor's assurances in this case." As of November 3, a NBC News/Wall Street Journal/Marist College survey of likely voters in Ohio suggested that the incumbent, President Barack Obama, has around a 6-percentage point lead over former Massachusetts Governor Mitt Romney, taking into account a 3.1 point margin of error. With each candidate polling too close to call this early, though, any glitch in the system — Ohio or elsewhere — could cause the whole election to go haywire. A win in Ohio means 18 electoral votes for either candidate, and historically no Republican hopeful has ever won the election without carrying the Buckeye State.
You can share this story on social media: