Vermont approves assisted suicide bill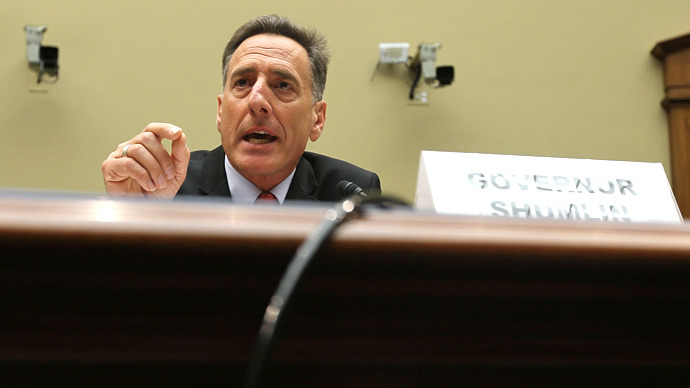 Vermont is about to become the third US state to legalize doctor-assisted suicide. A bill passed by the state legislature will allow physicians to prescribe lethal drugs to terminally ill patients that want to end their life.
State lawmakers on Monday approved the bill, which is now awaiting the signature of Gov. Peter Shumlin, who has already pledged he would sign it. Legalizing assisted suicide "gives Vermonters who are suffering from a terminal illness and anticipating excruciating pain peace of mind in knowing that this is an option," Shumlin told the Wall Street Journal.
Physician-assisted suicide is already legal in Oregon and Washington, where it was approved through general elections and enacted in 1997 and 2009, respectively. A similar bill failed to garner enough voter support to pass in Massachusetts last November, and was defeated 51 percent to 49 percent. Vermont is the first US state to pass such a measure through the legislative assembly.
Vermont's legislation will let anyone over the age of 18 with an "incurable and irreversible disease" and a maximum of six months to live to get a prescription for lethal drugs. The measure requires two doctors to make the medical determination whether or not a patient qualifies for assisted suicide. The patient must also be capable of self-administering drugs, which would be difficult in the rare instances in which someone is fully paralyzed.
In order to obtain the lethal drugs, a terminally ill patient must make written and oral requests to the prescribing physician and wait at least 48 hours before receiving the drugs. The requests would need to be witnessed by two "disinterested" individuals, which the bill defines as anyone that is not related to the patient, doctors or employees of the healthcare facility. Doctors will not be obliged to help the patient with his or her suicide.
The state of Vermont has held internal debates on doctor-assisted suicide for about a decade, and while the decision might influence other states, Shumlin indicated that not every legislature has worked on it as long as his.
"We've had a very respectful, dignified conversation about a difficult issue where there are strongly held beliefs on both sides," he told Politico.
Vermont's House passed the bill 75-65, after the Senate's passage last week, but some critics and religious institutions have starkly criticized it. 
"This, in our opinion, is a terrible thing to have happen to our state… because it sort of sanctions suicide as a way of dealing with many end-of-life health care issues," Gerald McMurray, a board member at True Dignity Vermont, told Politico. The organization describes itself as a citizen-led, grassroots initiative in opposition to assisted suicide in Vermont.
The Roman Catholic Dioceses of Burlington has also called on Vermont residents to urge the bill's defeat before lawmakers voted on it Monday.
"Physician-assisted suicide will forever transform the role of physician from the one who preserves life to one who takes life," the dioceses told the WSJ.
But for the governor, the legislature's passage of the bill is a victory that both he and his 80-year-old mother are celebrating.
"For me, it's watching my own parents grow older and them begging me… to ensure that they grow older in a state where they have some peace of mind that if they have a terminal illness that is extraordinarily painful, they have this option," Shumlin told Politico.
Bills legalizing physician-assisted suicide have also been introduced in Connecticut, Hawaii, Montana, New Hampshire, New Jersey, and Kansas.