US Military suicides continue to climb, reaching record in 2012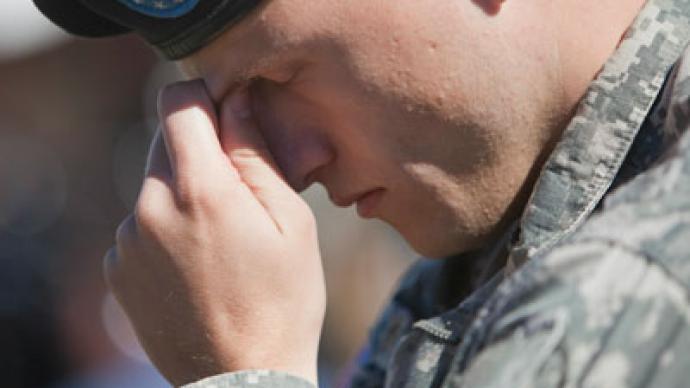 The US Military's suicide rate grew a startling 15 percent in 2012. The Pentagon, which has put great effort into lowering military suicide rates, has acknowledged that battle casualties are no longer the primary reason for soldiers' deaths.
Modern US warfare is Internet-centric and relies heavily on drones and robots, which has helped bring combat losses to historic lows; suicide now accounts for more deaths of US soldiers than battlefield conflict.The official website of the US Department of Defense has published preliminary reports of at least 177 potential active-duty suicides and 126 potential non-active-duty suicides in 2012. The report reveals a marked surge in suicides since 2011, when 165 confirmed active-duty and 118 non-active-duty suicides were registered.In all, 349 servicemembers in all branches of the US Military committed suicide in 2012, up 15 percent from 301 suicides in the military in 2011, AP reported, citing a Pentagon source. The number of US Military suicides in 2012 exceeded the total combat fatalities in Afghanistan in 2012, which the AP calculated at 295 deaths.Reports on US military suicides have revealed that the US Army, the largest body within the US military (around 562,000 personnel), has the highest number and rate of military suicides: Over 32 per 100,000 troops. The US Marines Corps (over 202,000 personnel) was second with nearly 24 suicides per 100,000 troops. The US Navy (around 323,000 personnel) and US Air Force (around 330,000 personnel) have practically identical suicide rates of 18 per 100,000 troops.
US military suicide rate 2012US Army – 182 suicidesUS Marines Corps – 48 suicidesUS Navy – 60 suicides US Air Force – 59 suicides
The average suicide rate in the US military – 24 suicides per 100,000 soldiers – is lower than the civilian suicide rate for men aged 17 to 60 – 25 suicides per 100,000 in 2010.The latest US military suicide statistics for 2011 suggest that a suicidal soldier is usually an unmarried white man under the age of 25, recently enlisted and with less than a college education. Around 60 percent of military suicides are committed with firearms, though in most cases the guns are personally owned, not military-issued.The Pentagon has instated several measures in a bid to curb the rising number of suicides. For example, soldiers and their family members can receive professional psychological help from the National Suicide Prevention Lifeline, where "trained consultants are available 24 hours a day, seven days a week, 365 days a year."The US Army sponsors research into medications to prevent suicides, such as a nasal spray that eliminates suicidal thoughts. But despite these breakthroughs, the problem has continued to grow.David Rudd, a military suicide researcher and dean of the College of Social and Behavioral Sciences at the University of Utah, told AP that he is not optimistic about further anti-suicide developments. "Actually, we may continue to see increases," Rudd explained, adding that Iraq and Afghanistan war veterans commit suicides because of PTSD, depression, alcohol and substance abuse, while those not deployed take their lives because of problems with relationships, finances or the law.The suicide rate among veterans vastly exceeds that of active-duty troops. According to estimates last year by the US Department of Veterans' Affairs, a US military veteran commits suicide every 80 minutes – totaling 18 veterans a day. In 2010, the Iraq and Afghanistan Veterans of America nonprofit reported that veterans account for 20 percent of the 30,000 annual US suicides, though only 1 percent of Americans have served in the military."Despite the increased efforts, the increased attention, the trends continue to move in a troubling and tragic direction," Defense Secretary Leon Panetta acknowledged at a joint suicide prevention conference between the Pentagon and Department of Veterans' Affairs in June 2012.
You can share this story on social media: