Obamas ready for the most expensive vacation ever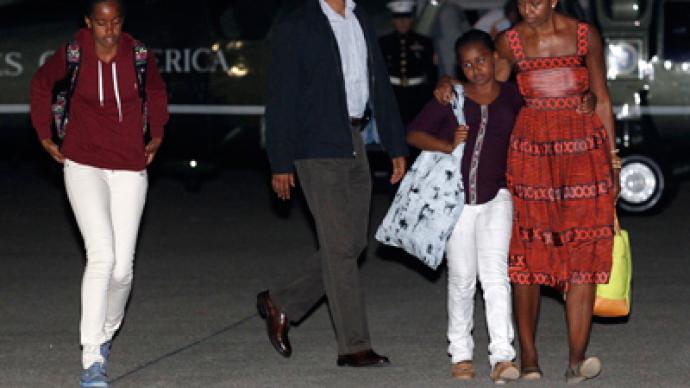 If you're having a hard time finishing all your Christmas shopping this holiday season, you might want to ask the president for a few bucks. The latest tally on the expected cost of his upcoming vacation has been upgraded to around $4 million.
Sound pricey? It is. In fact, at that price tag it stands to be the costliest presidential vacation ever.The First Family suffered a PR-disaster earlier this year after it became evident that Michelle and Barack Obama took separate jets only hours apart to take the couple from Washington DC to Martha's Vineyard for vacation, a move that cost American taxpayers thousands of extra dollars because the presidential couple couldn't wait a few hours to take the hour-long jaunt together. Less than a year later, Michele has taken the Obama girls to Hawaii while Barack tries to tackle a tax plan in Washington. It might put a damper on the family's vacation, but the eventual last-minute trip for the commander-in-chief will put a damper on the American deficit as well.That private nine-hour (each way) flight from Washington to Hawaii and back stands to come to a cost of $3,271,611. You see, if you give a president a private jet, he'll ask for a cushy one to boot. And if you give the president a fancy jet, he'll want a fancy car when he lands. And if you give the president a fancy car, you'll need another fancy jet to transport it to a tropical island resort so he can enjoy Christmas in peace away from all the real world problems that are plaguing America. And if you give the president a holiday away from all the real world problems that are plaguing America, well, then you get Obama.The trip for the first lady from DC to Hawaii sans husband has already cost around $100,000 reports the Hawaii Reporter. That figure takes into account travel expenses and security, among other factors, which is only a fraction of the price tag it'll take to fly Barack Obama out of Washington when he joins his family for a last-minute trip. The US Air Force has recently revised the cost-per-hour of operating the president's private jet, and at a price of almost $182,000 for every 60 minutes in the air, it's looking to be a vacation of Kardashian-proportions. While the Obamas can afford the cost of their private Oahu home themselves (which runs them around $75,000 a month), taxpayers will be stuck to foot with the rental of seven additional houses so that the US Secret Service, Coast Guard and Navy Seals can stand guard. All in all, the Hawaii Reporter put the grand total of the trip at $4,113,038. If, like me, you have no idea what that number means, try this: If you divide it by 1,000 you'll have roughly the average amount of personal savings for a typical American family, taking into account statistics from the Federal Reserve and US Census Bureau. From Washington on Friday, a White House reporter grilled Press Secretary Jay Carney on the vacation, asking if he thought it was an "extravagance" that the four Obamas are taking two jets to Hawaii, "particularly given the state of the economy, the state of the budget, and also given the directive that was just put out about limiting air travel by the administration?"Carney dismissed the question, citing precedents set forth by other administrations. It looks as if the only change in this administration is what's piling up in the presidential piggy bank.