UTC student maced and arrested for protesting preacher on campus (VIDEO)
The University of Tennessee-Chattanooga is facing growing pressure from students to remove a controversial campus preacher following a similarly divisive arrest.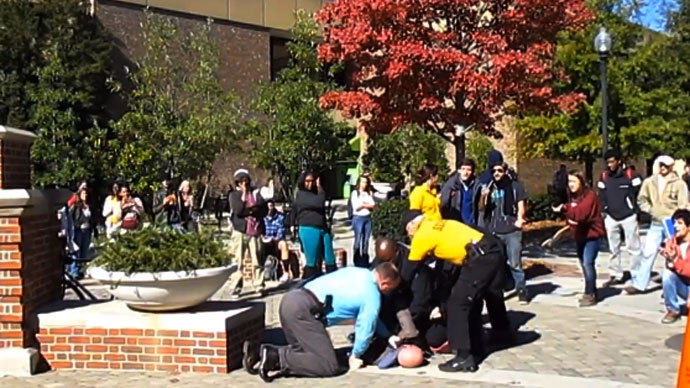 Last week, 24-year-old student Cole Montalvo was forced to the ground by police and arrested for attempting to ride his bike through a sectioned-off area set aside for a campus preacher named Angela Cummings.
Over the last few weeks, Cummings has been using an area on the UTC campus to open-air preach to anyone passing by. She has called students "adulterers," "sinners," and more, causing many to petition the university to remove her from the premises.
Student anger with the preacher reached a new high with Montalvo's arrest, which also raised questions about police behavior after video surfaced that seemed to suggest mace was sprayed in his face. Soon after the arrest was made, the lieutenant of operations, John Boe, told students that mace was not used, but a UTC spokesman Chuck Cantrell later told the Huffington Post that it was.
"Although the mace was sprayed once during the arrest, the student did not display any signs that he was affected by the mace and no medical attention was needed, so it was determined that the mace did not actually hit the student," he said.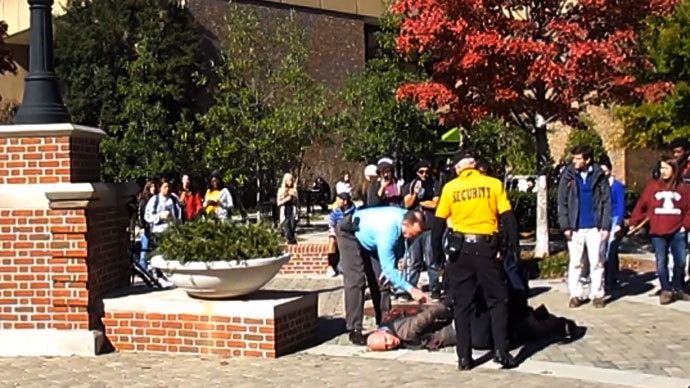 Neither the police nor Montalvo have commented on the incident since. Montalvo was charged with disorderly conduct, resisting arrest, obstruction of justice and inciting a riot.
Calls to remove Cummings have only grown since then. The petition against her has been signed by more than 3,100 students so far, and argues that Cummings is more than a simple nuisance to those passing by.
"She has not come with a message of love or peace, as Jesus taught," the petition reads. "She insists on screaming at the top of her lungs that we are all going to hell, Westboro Baptist style. She has parked herself in one of the busiest areas of campus, directly in front of the library, Brock Hall, and Grote Hall. It's been said that some professors have had to cancel classes because her screams can be heard through the windows."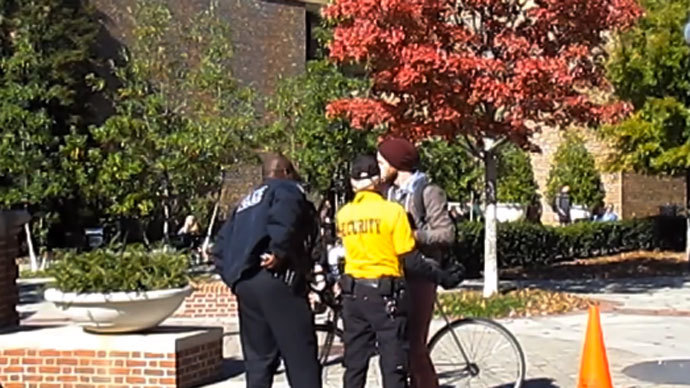 The school's administration, however, said the preacher is protected by the First Amendment, and the school can't force her off campus.
"Although the manner of the preacher's presentation is offensive to many and causes strong responses, the freedom of expression so valued in this country requires enduring protected speech with which we disagree," UTC chancellor Steve Angle said in a statement.
On Monday, students attempted to stop Cummings from preaching by gathering in the space she typically uses, but she continued to preach beside them, protected by campus security. On Tuesday, a barricade was set up by police for her return.
The Foundation for Individual Rights in Education agreed with the school administration on the situation, telling the Huffington Post that UTC can enforce neutral limits on the time and place Cummings speaks but not much more.
According to her YouTube page, Cummings has been preaching in public since 2001.

You can share this story on social media: