First-of-its-kind medical marijuana law signed in Utah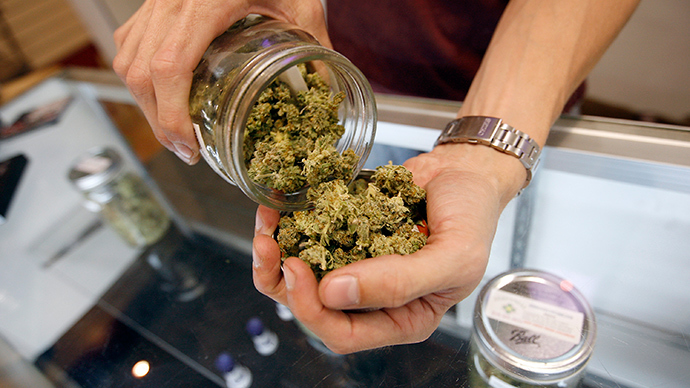 ​The Republican governor of Utah has signed a bill that will allow children suffering from severe epileptic seizures to be legally prescribed a marijuana extract for medicinal purposes.
Gov. Gary Herbert signed the bill on Tuesday this week after it successfully passed the predominately Republican state legislature in Utah.
Twenty states already have medical marijuana laws in place, and Washington and Colorado recently became the first to approve recreational pot for adults. But in what is perhaps the most glaring example yet of an increasingly evident change in attitude occurring in America with regards to weed, one of the most conservative states in the country has adopted a first-of-its-kind legislation as of this week's signing: Utah voters have for decades favored Republican Party candidates during presidential elections, and 80 percent of the state legislature is composed of members of the Mormon Church, which is known for advocating against illegal drug use. Last year, Utah led the nation in convictions for drug possession on public lands, according to the Salt Lake City Tribune.
"Charlee's Law" will go into effect on July 1 and only allows certain patients with severe epilepsy to be prescribed a marijuana extract that is low in the high-inducing chemical tetrahydrocannabinol, or THC, but full of cannabidiol , or CBD — a chemical that many say is unmatched when it comes to conquering seizures but stops short of getting users stoned.
"Cannabis oils show promise of offering some relief to Utahans suffering from seizures and epilepsy and we should do all we can to help them," Gov. Herbert said last week. "My concern has been that the products are produced properly and that we have the adequate protections in place. Ultimately, I am satisfied the bill provides for that and I decided to sign it."
Only neurologists can write the prescriptions, and the Utah Department of Health is expected to create a process that will let families apply for a waiver to use the oil. According to the Tribune, there will also be a $400 hemp extract fee for those that register for waivers.
Herbert was flanked by around 50 parents and children at the state Capitol during Tuesday's signing, the Associated Press reported. According to local network KUTV, around 55 families across Utah are either currently or will soon be on a waiting list for patients who want to purchase CBD-heavy oil from Colorado known as Charlotte's Web. Under the new law, the extract must contain at least 15 percent CBD and less than 0.3 percent of THC.
"We've got hundreds of families that have moved from around the US to Colorado to make sure their kids have the opportunity to use this extract," Utah Representative Gage Froerer, a Republican sponsor of the legislation, told the network.
Under federal law, marijuana legally grown in Colorado for sale there can't cross state lines. Excluding that state and Washington, non-medicinal marijuana is still considered a Schedule I narcotic everywhere else in the country, though federal officials have indicated they won't pursue small-time drug cases in jurisdictions where local laws have been passed decriminalizing weed.
The group Hope 4 Children With Epilepsy (H4CE) says that their waiting list for a CBD oil produced by Realm of Caring Foundation in Colorado Springs, CO currently has around 3,500 patients on it. The AP says that figure is likely closer to 2,000, but that number will likely soon increase regardless if the governor of Alabama signs a bill approved by lawmakers there that would also legalize CBD-heavy oils for seizure patients.
"Charlee's Law" is named in honor of Charlee Nelson, a 6-year-old West Jordan, UT girl who died earlier this month. She was one of the dozens on the waitlist for cannabis oil at the time of her death.
You can share this story on social media: