Heavy snowfall prompts ​state of emergency in northeastern US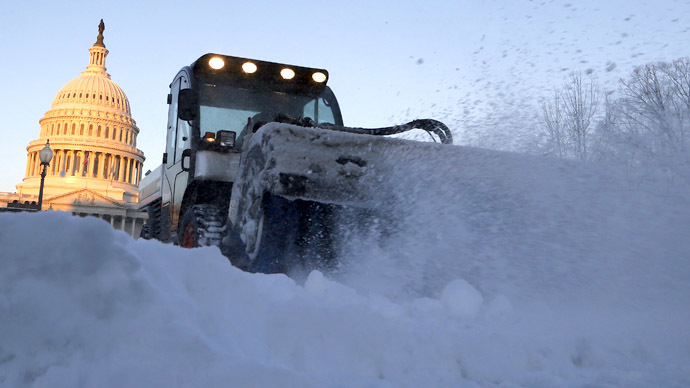 Heavy snow, strong winds, and frigid temperatures have again slammed the northeastern US, wreaking chaos and causing fatalities. A state of emergency has been declared in several states.
Over 50 million people in major metropolitan centers have been affected by the havoc-causing weather. Federal government workers were urged to stay home, and many businesses also closed their doors as emergency warnings were announced for one of the most populated parts of the country.
New York Gov. Andrew M. Cuomo has declared a state of emergency in many counties of the state. He also activated the State Emergency Operation Center to monitor the storm, reports WPIX.
"I urge all those in the affected regions to exercise caution, and avoid travel if possible," Cuomo said. "State resources are deployed to clear snow and help those impacted by the storm, but above all it is important that New Yorkers remain safe both during and after the storm."
Over 16 inches of snow has fallen in Manalapan Township, in Monmouth County, New Jersey. The state's governor, Chris Christie, also declared a state of emergency, authorizing the State Director of Emergency Management to activate recovery efforts for the storm.
"I encourage all New Jerseyans to stay off the roads if possible so that our first responders and public safety officials can safely respond to any emergency situations," Christie said.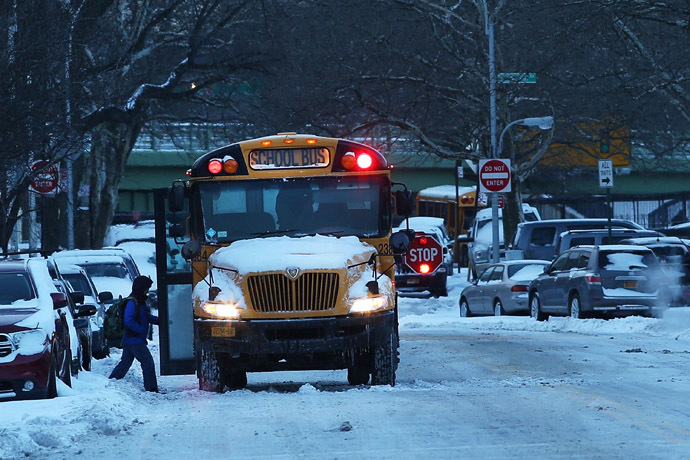 The third state to declare an emergency was Delaware. Gov. Jack Markell, declared a state of emergency with a "Level 1 Driving Warning." He added that "Conditions have deteriorated, and it is safer not to drive if you don't have to," the Smyrna-Clayton Sun-Times reported.
In Philadelphia, Pennsylvania, the snow - which started falling on Tuesday - had reached 14 inches by Wednesday morning.
The storm turned deadly in Maryland, where at least one driver was killed in a storm-related accident about 80 km (50 miles) northwest of Baltimore. According to a preliminary investigation, two people were also been killed on a road in the state's Prince George's County.
About 3,000 flights were canceled on Tuesday at some of the country's busiest airports, including Washington, Baltimore, Philadelphia, New York, and Boston. Logan International Airport in Boston warned passengers to expect an extremely limited domestic service. Over 1,400 flights have already been canceled nationwide, according to flight-tracking site flightaware.com. New York's LaGuardia Airport also had many flight cancellations.
In many districts in Pennsylvania, New Jersey, Connecticut, Virginia, West Virginia, and Kentucky, schools have remained closed since Tuesday. Schools were also closed on Wednesday in Rhode Island, Connecticut, upstate New York, New Jersey, Delaware, Maryland, Northern Virginia, and the District of Columbia.
You can share this story on social media: