US Air Force C-17 seized over Argentine drug smuggling accusations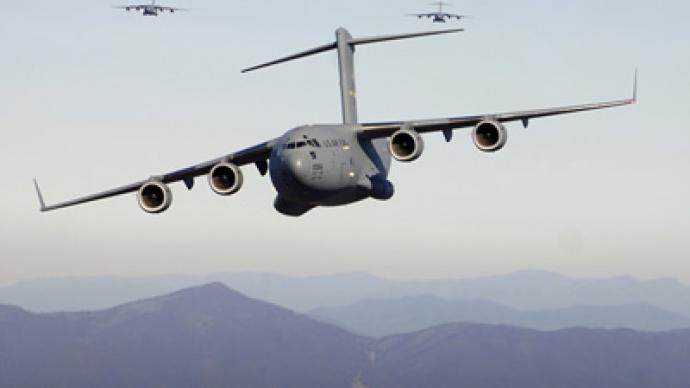 Argentina is accusing the US military of attempting to smuggle arms, drugs and spy equipment into the country under the pretext of a police training course.
The US military disputed the claims, denying an attempt to smuggle equipment into Argentina. Argentine authorities claim to have seized nearly 1,000 cubic feet of undeclared items ranging from machine guns and ammunition to drugs and spy equipment. Argentine officials said the items were found on a US Air Force C-17 cargo plane along with material for a training course a US Special Forces team had been invited to give to the federal police. Foreign Minister Hector Timerman said his nation planned to file an official protest in Washington and seek a shared investigation into the matter, specifically why the US Air Force would violate Argentine laws. The foreign ministry claimed the seized materials were "for intercepting communications, various sophisticated and powerful GPS devices, technological elements containing codes labeled secret, and a trunk full of expired medicine."Argentine lawmakers are calling for investigative hearings and federal judges are calling for more details from the Ministry. State Department spokesman P.J. Crowley said the department is puzzled by the actions of Argentine officials, and that he was unaware if an official petition had indeed been filed. He described the search of the plane as "unusual and unannounced."State Department officials said all materials were clearly and properly declared. Items of confusion could have been handled by customs without causing an international insistent, they alleged. The US said the supposed spy equipment is actually satellite phones for communication used by the Special Forces training team. They are carried into the field to ensure communication with commanding officers. While the phones were declared, the list did not indicate related computer equipment or codes that were required for the phones. Thus, all were seized by Argentine officials. In addition to other items seized, Argentine officials took possession of medical kits, because they failed to individual list the drugs included. The kit itself had been declared. Stretches, other medical equipment and military rations were also seized. The events coincide with precarious times for US-Argentine relations, as US President Barack Obama is set to make a trip to South America, visiting Brazil and Chile, but skilling Argentina.
You can share this story on social media: