Americans apathetic as UK students protest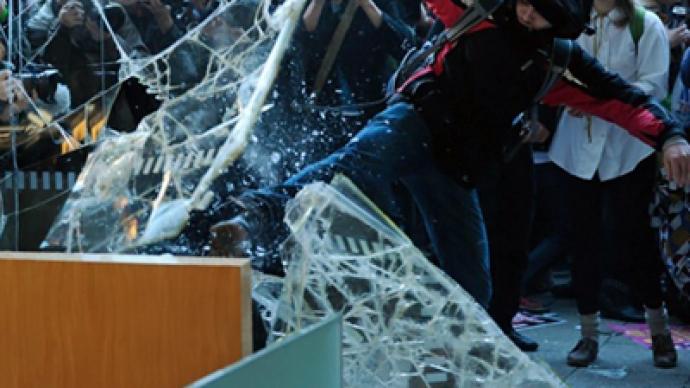 Clashes broke out among the tens of thousands of students who took to the streets of London to protest university tuition hikes, which could triple the cost to £9,000 ($14,000) a year.
The demonstrations outside the Conservative Party headquarters started off peaceful and gradually turned violent when a group of anarchists joined the protest.Some in the crowd began lighting fires, burning banners, breaking windows and storming the building. They also scaled the roof and threw projectiles onto police below.The protestors are responding to a government decision that allows universities to increase tuition fees due to cuts in subsidies.Struggling to reduce a large budget deficit, the ruling coalition's main party is facing unrest over the deep cuts required to tackle its massive debts. But many in the UK do not want to pay for its government's mistakes.Some 50,000 students from all over the UK gathered to protest.Witnesses and demonstrators were divided as to whether the violence undermined their cause.Rage was also vented at the coalition partners – the Liberal Democrats. They had promised to phase out fees completely in a pre-election pledge. For the students, it is a u-turn too far as they told politicians: don't make us pay for your mistakes.But education cuts are just part of the pain for hard-up Britons. Spending has been slashed by up to a quarter across the board: healthcare, defense, and benefits for the less well-off. Yet more money will be needed to pay for the European Union next year.Prime Minister David Cameron has promised the EU will not spend more than the earmarked extra US$ 700 million. But James Pryor, an EU budget negotiator says that is not true. He claims it will be closer to a billion – cash which critics say is money down the drain."We are sending 48 million pounds a day to the EU, that is a huge amount of money," Pryor told RT.What is likely to make Britain's cash-strapped taxpayers see red even more is that, for the 16th year running, EU auditors have rejected the books, saying over 90 per cent of accounts have 'irregularities' – from awarding dodgy farming contracts through to rampant inefficiencies.When the austerity measures were announced last month, there was no public outcry – and that may have lulled the government into a false sense of security. But now, students have laid siege to the Conservative Party headquarters, and that is something the government may find difficult to ignore.
Fees in US much higher
Tuition costs in the United States are already much higher than those in the UK, but American students are not likely to take to the streets to demand lower tuition fees or protest against hikes."I think this idea that education is a commodity, that all this great knowledge that we have out in the world today can only be accessed by people who can pay large amounts of money, I mean, that's something that over the years and around the world we have fought against," said Eugene Puryear, a Howard University student in the United States. "These students are out there standing up against that and I think that's a very positive thing."Puryear explained that American students in certain cases have protested at some universities, but overall US students are more apathetic."We've seen people willing to come out, willing to protest and willing to take action," said Puryear. "I do think there is perhaps a break in the wall apathy that is constantly pointed to."Although the US has high college costs, which are quite a burden in the current economic climate, further education has become a necessity to enter a strong career."Yes, college is a lot of money, yes you are going to go into a huge debt load, but if you only go to high school or don't graduate from high school there definitely won't be any jobs," he explained. "It seems to some people as the only possible way for them to have what they perceive as a good life."Not all US universities are as expensive, but the more costly high ranking universities, are those most students hope to attend. "People feel like 'if I have a degree from an Ivy League school or so on and so forth it will make people look at me better in the job market', but I do think beyond that there are many good colleges and universities in the United States that shouldn't be slighted where you can get a great education," said Puryear. And, "it might cost you a little less."
You can share this story on social media: