Americans abandoning dollar, banking with China?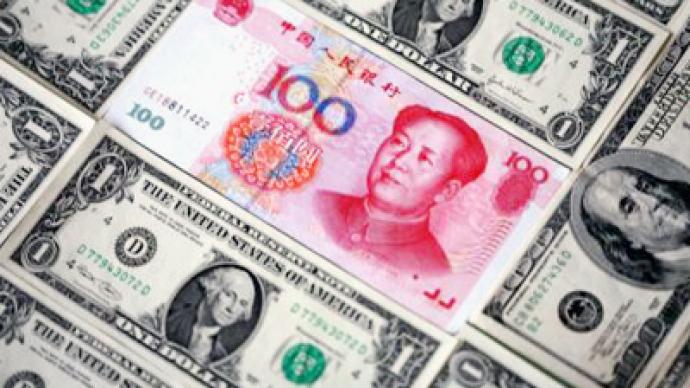 New York City's Chinatown is a go to for many things. Authentic meals, designer knock offs, manicures, massages and now, money.
The Bank of China, one of the country's main state owned lenders, is allowing American customers to open accounts and trade US dollars for the Chinese Yuan each year. Account holders can exchange up to $20,000 annually. Experts say China's currency is likely to go up, as the country remains a manufacturing powerhouseChina, the world's largest exporter, has been coasting with an enormous trade and budget surplus.This, as the US is barely treading, down by a crushing 14-trillion dollar national debt."The Chinese have been saving and investing over 35 percent of their income and the United States has been saving and investing two percent of our income. We've been borrowing and consuming. They've been saving and investing," said Jim Rogers, Quantum Fund Co-Founder & Author.While plenty of US banks try to entice new customers with special offers, experts say the three Bank of China branches in America offer something more irresistible, growth. Are Americans ready to replace Benjamin Franklin with Mao Zedong? If holding China's money becomes as trendy as holding the iPods it manufactures, some economists believe the Yuan may eventually become a force to reckon with. "If wealthy people around the world and in the US begin to hold their money in Chinese currency, Renminbi, Yuan, and they associated with wealth and they associate it with a good investment, it legitimizes and jacks up the acceptance of the Chinese," said economist Max Fraad Wolff.As with any gamble, banking on the Yuan does have its risks. "US private consumer takes one side of the bet. Bank of China takes one side of the bet. The only thing is that the Bank of China makes the decision on how valuable the Yuan is," said economist, Max Wolff. So as more Americans flock to Chinatown, some may be looking to satisfying an appetite for Szechuan pork or Peking duck, while others may be seeking economic security, in the comfort of foreign currency.In addition to banking shifts, coinciding with President Jintao's visit the Chinese government invested big bucks in a promo ad in New York's Times Square to promote a positive image. The media in America traditionally speaks only of a threat coming from China. Times Square is the heart of New York advertising. Companies from all over the world – and now countries – are fighting to show their billboards there. The advertisementfeaturing prominent Chinese figuresis will broadcast as many as three hundred times a day until mid-February. But has anyone been noticing the ad? And what do Americans know about China?RT asked New Yorkers different – and simple – questions about China to find out what kind of knowledge they have about the country. Questions ranged from what the name of the country's capital is, to the name of the Chinese president, to whether they can name at least one interesting fact about the country. Surprisingly, most of the people on the street could not answer these questions.This seems to indicate that the media's negative message about China is obviously reaching the viewers, but real information isn't. One in five Americans think China is the biggest threat to the US. And as it turns out, this fear stems from a simple lack of knowledge.
You can share this story on social media: